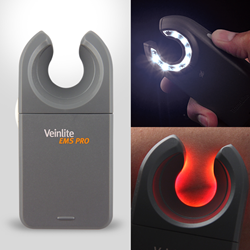 Veinlite products are trusted by over 35,000 medical professionals, with a solid reputation built on effectiveness, quality and innovation. The Veinlite EMS PRO takes that legacy one step further.
Sugar Land, TX (PRWEB) June 16, 2015
TransLite LLC, makers of the innovative and bestselling Veinlite brand vein finders, have added a bold, new entry into their product lineup for 2015. The new Veinlite EMS PRO® joins Veinlite's family of portable Vein Access products. Veinlite® vein finders are already distinguished by their clinically-proven effectiveness at improving IV access success rates over the Standard of Care.
The new Veinlite EMS PRO® is designed specifically to meet the needs of Emergency personnel and nurses, where the current Veinlite EMS® has been a major success. It's no surprise that so many of these medical professionals already rely on Veinlite devices for locating and accessing veins in the field. The Veinlite EMS PRO®'s new, integrated exam light takes this reliability and utility one step further by providing quick, one-button access to a built-in flashlight mode. Day or night, this aids in initial patient assessment and reduces the amount of gear required to deliver quality care, making it an essential part of any EMS kit.
Key Features:

Clinically proven for finding and accessing veins
Locks vein in place during needle sticks – prevents vein rolling
Built-in exam light extends versatility
Among other benefits, the Veinlite EMS PRO also meets INS Guidelines for infection control, a critical consideration when providing healthcare treatment to any patient. This device is suitable for use on Adults and Children, and its combination of orange and red LED lights provide optimal contrast for both light and dark skin tones.
To learn more about the new Veinlite EMS PRO® – or TransLite's complete line of IV access and Sclerotherapy vein finders – visit http://www.veinlite.com.
For more information or to schedule an interview, contact Kristin Mullani at (281) 240-3111 or info(at)veinlite(dot)com.