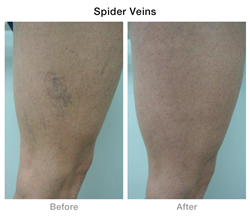 I was embarrassed wearing shorts because I had some spider veins on the right side of my leg. - Veintec patient, Theresa Valdez
San Antonio, TX (PRWEB) July 01, 2014
Dr. Robert Thompson's patient, Theresa Valdez, was self-conscious about the spider veins on her leg and no longer wanted to wear shorts. In San Antonio, where the daily high temperature is 90 degrees or more for several months, not having that wardrobe option can be uncomfortable.
"I was embarrassed wearing shorts because I had some spider veins on the right side of my leg," Theresa said. While the spider veins were a cosmetic issue and not a medical concern, Theresa wanted to have them treated. Spider veins can appear as short and unconnected lines, or they make patterns resembling a spider's web.
Theresa was treated with a series of spider vein Sclerotherapy injections. The procedure takes about 30 minutes, is performed in the Veintec office and does not require general anesthesia. A solution is injected that causes an irritation in the inner wall of the vein and the vein collapses. Spider veins are visible because of blood in the dilated vein. When the vein is collapsed, it no longer carries blood and is therefore no longer visible.
Theresa said she felt the needle poke her skin a bit, but it wasn't much and did not hurt.
"Spider veins are most often found on the ankles, thighs and back of the knees," said Dr. Thompson. "A single area may have to be injected more than once, one to two weeks apart, depending on the size of the vein. Following a treatment, patients can go back to work the same day or the next day. Within a month to six weeks, the veins are gone. A patient can expect 80 percent clearance of spider veins with the first series of treatments."