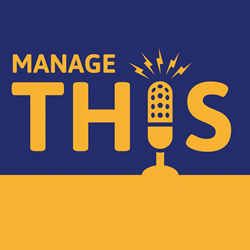 Kennesaw, GA (PRWEB) July 13, 2016
Velociteach, a top PMP exam prep and project management training company, is proud to announce a new podcast: "Manage This, the Podcast by Project Managers for Project Managers." The podcast, which airs twice monthly, is a valuable resource for anyone seeking to hone their skills as a project manager. What makes top project managers stand out to their teams, senior managers, customers, and stakeholders? The Manage This Podcast is dedicated to answering this question and making the results reproducible for other project managers.
Imagine having access to the top project managers from organizations and industries around the world and having the chance to uncover what they do, how they approach their challenges and what they know. The Manage This Podcast is Velociteach's newest contribution to a wide array of resources for project managers. "A podcast is a great way to share best practices and to share some of the recent developments in the project manager field," says Velociteach podcast co-host and Executive Vice President, Bill Yates.
Nick Walker, an accomplished broadcaster who has worked at The Weather Channel, MSNBC, CNBC, the NBC Nightly News and the CBS Evening News, guides a lively discussion of the project management world with co-hosts Andy Crowe and Bill Yates, who bring a wealth of expertise to the podcast. Andy is the founder and CEO of Velociteach and the author of the top-selling textbook, "The PMP Exam: How to Pass on the First Try."
Celeste Clancy oversees the production and deployment of Manage This and is the manager of InSite by Velociteach. InSite offers self-paced eLearning for professional development and is designed by the leading provider of project management education.
Topics range from PMP, CAPM, PMI-ACP, PgMP, and PfMP exam prep and test taking skills to real life experiences from successful project managers in diverse fields. In just the first few podcasts, Manage This has advised on changes to the PMP exam, offered advice for strategic and effective guessing on the PMP, and examined the philosophical differences and relative virtues of the waterfall and agile approaches to project management. In one podcast, Andy and Bill examine the critical importance of the Work Breakdown Schedule in successful project management, as well as how the WBS differs from the schedule, and the problems that can arise when they are not utilized correctly. In another, top project manager Mike Hayes shares incredible stories about the challenges he faced meeting the strict deadline of the torch lighting at the 1996 Atlanta Olympic Games.
The Manage This Podcast also provides an easy and free way for project managers to earn Professional Development Units, or PDUs, necessary to maintaining accreditation they have already achieved. Each podcast earns .5 PDUs for the listener.
The Manage This Podcast is now one of many tools Velociteach offers project managers, whether established or aspiring, to further their careers.
Named Education Provider of the Year by the Project Management Institute (PMI), Velociteach is committed to helping students pass project management certification exams on their first try. Velociteach is driven by a commitment to provide the very best in project management training materials and courseware. Their focus is making sure students pass the Project Management Professional (PMP), the Certified Associate in Project Management (CAPM), or other certifications such as the PMI-ACP, PgMP, or PfMP as quickly as possible with the least possible expense.
Velociteach has an extensive catalog of courses and ways to take them. They offer public and corporate classroom-style training for certification and continued education, e-learning programs, comprehensive training kits, and licensing for outside trainers. Whether you are seeking PMP certification, taking a CAPM prep course, in a PMP boot camp or through an online class, the Manage This Podcast can be an invaluable asset.
Velociteach has had great success in helping project managers learn with recorded media. Audio CD series such as "The PMP Exam, How to Pass on Your First Try," and "Alpha Project Managers, What the 2% Know That Everyone Else Does Not" have helped countless project managers become better project managers. The Manage This Podcast is a natural fit for Velociteach and provides a great asset for auditory learners. Plus, the podcast format allows Velociteach to provide students with up to date info from the evolving test certification landscape.
Velociteach wants project managers to succeed in their careers and succeed in their pursuit of PMP certification -- and to do it on the first try. Whether you're looking for the best PMP boot camp, seeking to advance your career with mastery of the PMBOK and your CAPM certification, or hoping to add agile principles to your skill set with the PMI-ACP exam, the Manage This Podcast from Velociteach can help take your career in the direction you desire.
The Manage This team welcomes listener feedback and will incorporate listener questions into future episodes. They can be reached via email at Manage_This@Velociteach.com or on Twitter by the handle @manage_this.