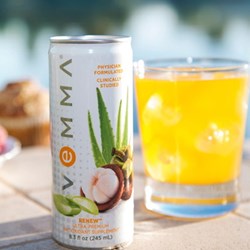 Salisbury, NC (PRWEB) February 17, 2014
Vemma Renew is formulated with plant-sourced silica known to help maintain healthy hair, skin, eyes and teeth.* Packaged in a handsome 8.3 oz can, Renew is sure to generate interest in key demographics in the exploding healthy beverage market.
The Vemma Renew formula is made with the powerful antioxidant super fruit, mangosteen, from the jungles of Southeast Asia. Many of the traditional natural healers of Southeast Asia have taken advantage of the beneficial properties of mangosteen for hundreds of years. The plant is difficult to harvest and reproduce outside of its native habitat, so it has not been widely utilized. This proprietary formula may be the most powerful liquid antioxidant available anywhere.
The Vemma formula included in Renew is physician formulated, clinically studied, independently tested and manufactured in FDA-inspected facilities with the highest quality standards for a results-driven product. It is scientifically tested to the gold standard of clinical testing, which that includes independent, double blind, and placebo testing.
Vemma owns, operates, and oversees its own production facility and does not contract out the manufacture of its liquid nutrition and beverage products. Vemma Renew is sure to gain much ground in the important 18-35 female demographic.
The plant based silica designed to maintain healthy skin, hair, and nails sets it apart from its competitors.* The 45 calorie drink has a tasty fruit flavor and contains only natural sweeteners, no aspartame, high fructose corn syrup, or dyes.
*These statements have not been evaluated by the Food and Drug Administration. This product is not intended to diagnose, treat, cure or prevent any disease.