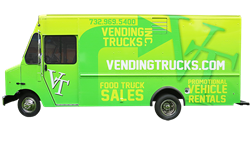 East Brunswick, NJ (PRWEB) July 25, 2013
Vending Trucks, Inc. is approaching its 10-year milestone and as a result of successfully separating themselves from the competition, continues its rapid growth each year. This New Jersey company has been incorporated since 2004 and is raising the bar in the food truck industry with hard work, dedication, and commitment to its clients. The company targets businesses and marketing agencies nationwide seeking a product sampling solution with custom designed trucks by providing design options like custom vinyl wrapping and custom fabricating. This is a huge aspect for companies who are looking to promote their brand or product at events. Accredited by the Better Business Bureau with an A+ rating, Vending Trucks, Inc. and its employees have over 20 years hands on experience in the industry and have the track record of mastering how to successfully execute product promotions and consumer interactions for experiential marketing events.
Vending Trucks, Inc. has fully customized food trucks, concession trailers, and mobile kitchens for clients ranging from small businesses, Fortune 500 Companies, and individual entrepreneurs. Vending Trucks operates two divisions one of which offers premium food trucks for sale and the other focused on the rental of mobile marketing vehicles. Some recent brands the company has provided custom fabricated food trucks for include: The Original Soup Man, Time Warner Cable, Google Fiber, and Betty Crocker. It is companies and marketing agencies that seek out Vending Trucks, Inc. to help represent them and many more in public and promotional events.
Recently, Vending Trucks, Inc. participated in the New York City International Franchise Expo, an exposition that presented over 400 franchises. In addition to the value traditional food trucks could provide to existing food franchises, Vending Trucks, Inc. was able to illustrate to exhibitors and attendees the opportunity that exists by designing mobile on-the-go concepts for many types of businesses.
This past June, Vending Trucks, Inc. was able to provide Perdue with a custom fabricated truck for Safeway's Annual National Capital Barbecue Battle in Washington, D.C. This annual competition is open to all vendors across the United States to come together and promote their products, while competing for the title of the best BBQ recipes. Perdue rented a food truck and used it as an opportunity to market its new line of products. The Perdue staff was overwhelmed with the positive feedback from the DC community and will be using the truck again for promotion in the future.
The communication window between Vending Trucks, Inc. and its customers plays a huge role in the success of the company. Reliable, positive feedback continues to roll in from its clients about the custom work on their respective trucks and staff. Along with the marketing program, Vending Trucks, Inc. provides trained staff members to manage and maintain vehicles on-site in order to provide a flawless event, a feature that puts them above their competition.
Vending Trucks, Inc. continues to be a front runner in the food truck industry by staying at the forefront industry trends. It does so by offering top of the line, customized equipment specific to the client's needs and state of the art marketing tools; both necessary attributes to all potential investors and entrepreneurs to survive in today's consumer driven economy.