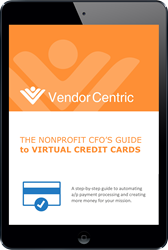 A growing number of nonprofits are implementing virtual credit cards to streamline processes, mitigate fraud and generate new sources of revenue through cash rebates.
(PRWEB) April 06, 2016
Gaithersburg, Maryland: Vendor Centric, a consulting firm that specializes in providing vendor management strategies and solutions to nonprofits across the U.S., released its newest publication designed to help CFOs and Accounts Payable Managers understand how to utilize virtual credit cards to pay vendors electronically.
Virtual credit cards are one of the newest and most flexible forms of electronic payment. They are designed to be an alternative to check or ACH payments, and can be accepted by any vendor that accepts payment by credit card.
"We are seeing a tremendous growth in the adoption of a/p automation technology by nonprofits," said Tom Rogers, CEO of Vendor Centric. "The new breed of a/p automation solutions are easy to implement and provide an array of benefits including efficiency, fraud mitigation and, in the case of virtual credit cards, new forms of revenue through cash rebates. We created this guide to provide nonprofit CFOs with not only a primer on virtual cards, but also a step-by-step process they can follow to get a program up and running in as little as 90 days."
The 15-page guide provides a variety of information that will help CFOs determine whether or not virtual credit cards are a good fit for their nonprofit organization. Highlights include:

A primer on virtual credit cards, why nonprofits (and their vendors) love them and why adoption continues to grow
4 big benefits CFOs can expect from a well-designed virtual credit card program
The top 5 opportunities for nonprofits to leverage virtual credit cards
A step-by-step process for implementing a successful virtual credit card program
The Nonprofit CFO's Guide to Virtual Credit Cards is a free publication and can be downloaded here.
About Vendor Centric: Vendor Centric is a leading consulting firm specializing in vendor management strategies and solutions. We help our clients take a more informed and disciplined approach to vendor management so they can save money, simplify processes, reduce risk and create more meaningful, value-driven relationships with their vendors. Learn more at http://www.vendorcentric.com