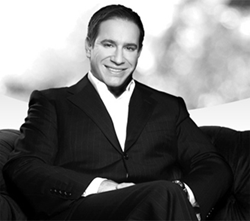 Los Angeles, CA (PRWEB) June 05, 2015
Porcelain veneer dentist, Dr. Kevin Sands, is now offering a new promotion and consultation for porcelain veneers to help patients improve their smile for the summer. Patients interested in a consultation are encouraged to contact their office for more information.
Dr. Sands uses porcelain veneers to perfect the smiles of celebrities. Celebrities have used porcelain veneers for nearly 100 years. Dr. Charles Pincus, a celebrity dentist in California, created acrylic veneers that could easily be applied to actors' teeth before filming to create a flawless smile. These veneers were temporary in nature, but they led the way to the veneers that are used today by both celebrities and everyday people.
Although the earliest veneers were temporary, Dr. Michael Bunacore created a more lasting option in the 1950s. He found that by etching the surface of teeth, he could create a stronger bond between the veneers and the teeth. By the 1980s, additional research had been completed, and a powerful adhesive that could permanently bond the veneers to the tooth was discovered. In the 30 years since that discovery, veneers have become even more advanced, and today's veneers have the same luminescent look that natural teeth have but are designed to resist stains and cover chips and flaws. Take a look at veneers before and after pictures to see the difference they can make.
Celebrities use veneers to create a flawless smile and to hide:
1. Gaps, small teeth and misalignments
2. Chips, fractures and worn enamel
3. Stains and discolorations
Veneers can make them look not only more attractive but also more youthful. According to Dr. Sands, "Having dark colored teeth definitely makes you look older." After veneers have been applied, "Instantly, you'll look younger," he explains. The process can usually be completed in a few appointments, and the results can last for 15 years or more. Celebrities often turn to veneers because they can dramatically change a smile for the better and offer incredible long-term results. Visit Dr. Sands' website to learn more about porcelain veneers pros and cons.
About Dr. Kevin Sands
Dr. Sands is a top Los Angeles dentist who has worked with numerous celebrities, including well-known actors, singers and models. After graduating from USC's School of Dentistry, Dr. Sands completed advanced training in anterior aesthetic dentistry at the prestigious Las Vegas Institute. He is a member of the California State Dental Association, the American Academy of Cosmetic Dentistry and the American Dental Association. Visit http://www.porcelainveneerlosangeles.com to learn more.