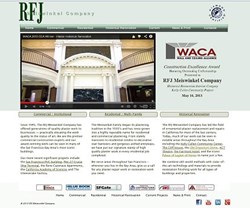 San Francisco, CA (PRWEB) November 27, 2013
Showcasing over 60 years of the art of plaster, RFJ Meiswinkel has launched a new website. As they have kept up with the times with new materials, new processes and new fields while maintaining the high quality they are known for throughout the Bay Area; the launch of the new website celebrates this movement forward.
The new website showcases the many areas that plaster is used. The term plaster refers to both interior and exterior work. After 60 years in business, RFJ Meiswinkel projects cover a range so diverse it is difficult to grasp, including many landmark buildings throughout the San Francisco Bay Area that anyone would recognize. Additionally, RFJ Meiswinkel specializes in Metal Framing, Lathing, Drywall and Cement Panels.
RFJ Meiswinkel invites browsers to visit the website and explore how these many trades are used in historic preservation, commercial, and residential plaster and how RFJ Meiswinkel can help with a project. The site is more user-friendly and better showcases their expansive catalog of projects in the Bay Area, than their old site. Visitors can also check out current and recently completed RFJ Meiswinkel projects.
Visit their website at http://rfjmeiswinkel-sf.com.
<br>About the company:<br>The Meiswinkels began its plastering tradition in the 1940's. The company known as RFJ Meiswinkel Company has truly elevated plaster work to the status of art. The award-winning work of RFJ Meiswinkel Company can be seen in many of the San Francisco Bay Area's most iconic buildings. RFJ specializes in exceptional wall and ceiling construction using metal framing, drywall, stucco, lath and Venetian plaster techniques for both commercial and residential applications. RFJ combines the jobs of estimator and project manager, offering their clients a single professional with expertise over the entire job. For questions or to schedule an estimate, please call 415-523-5864, or visit their website for more information.