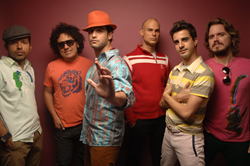 I'm thrilled that we are able to bridge the gap between real life issues that affect people deeply in Venezuela with those same issues that affect people here. This year's festival will be inspiring and illuminating.
New York, New York (PRWEB) September 01, 2014
The 2014 Venezuelan Film Festival in New York ("VEFFNY"), which will take place September 19-25 at Tribeca Cinemas, announces its line-up of award-winning films and events for this year's festival including fourteen feature-length films by a diverse mix of Venezuelan filmmakers. Festival tickets will go on sale on Sunday, September 7, 2014.
After an exciting, successful premier in 2013, this year VEFFNY promises to show film audiences a side of Venezuela they have never seen. The eclectic program selection is filled with compelling stories that capture the growing artistic boldness and fearlessness of Venezuela's new generation of filmmakers. Several featured films will touch on themes surrounding gender and sexuality in Venezuela (a topic that, until now, was untouched in modern Venezuelan cinema). Festival-goers can look forward to seeing thought-provoking and moving stories of women and pressing LGBT social issues brought to life on the big screen.
Festival organizers are summing up this year's lineup in three words: expect the unexpected. Film buffs can also look forward to participating in engaging dialogue on topical subjects as festival organizers expand this year's program to include panels and events to bring New Yorkers of all backgrounds together for provocative discourse on issues that affect us all. Irene Yibirin, VEFFNY Founder and Director elaborates:
"I'm thrilled that we are able to bridge the gap between real life issues that affect people deeply in Venezuela with those same issues that affect people here in the United States and around the world. Last year's festival launch was incredible. This year's festival will be even more inspiring and illuminating."
One particular festival conversation sure to spark debate and buzz is the panel Sex and Gender in Venezuela featuring the renowned Dr. Tamara Adrian (star of the award-winning film "I, Undocumented" on transgender women in Venezuela being screened at VEFFNY and a leading advocate for transgender rights around the world).
Other key events surrounding this year's festival include an Opening Night Ceremony and Cocktail Party taking place at Tribeca Cinemas Friday, September 19th (sponsored by Santa Teresa® Rum), a panel on crowdfunding Venezuelan film productions, and a Closing Award Night Ceremony (sponsored by B&H Photo Video, Bolivar Films and Santa Teresa® Rum).
SIGNATURE SPONSORS
2014 Venezuelan Film Festival sponsors include Presenting Sponsor CITGO® and the following Signature Sponsors: Bolivar Films, Centro Nacional Autónomo de Cinematografía, B&H Photo Video, Cinema Tropical, Gotham City Tours, Santa Teresa® Rum, Women's Press Collective, Fairway, and the Venezuelan American Endowment for the Arts.
This year's program selection is highly diverse, ranging from fun, romantic comedies, to a music biopic, to horror, to thought-provoking social documentaries and more. All films will be screening at Tribeca Cinemas in Spanish with English subtitles.
1. Papita Maní Tostón
Luis Carlos Hueck | 2013 | 100 mins
Spanish language with English subtitles
FRI 19 6:15PM | SAT 20 4:30PM
Andrés is a fan of Los Leones del Caracas, one of the two biggest baseball teams in Venezuela. One day he meets Julissa and her dad, a fan of Los Navegantes del Magallanes, its historic rival team, and one of the team's managers. What comes next is a beautiful and fun story of love and baseball.
2. The Longest Distance (La distancia más larga)
Claudia Pinto | 2013 | 113 mins
Spanish language with English subtitles
FRI 19 6:45PM | SAT 20 6:15PM
The Longest Distance takes us from the suffocating Caracas to the plenitude found on top of one of the oldest geological formations on our planet, the Roraima, south of the Amazon. It's a story about freedom of choice, family ties, and second opportunities; it's an ode to freedom reminding us that it's never too late to take control of the reins of our lives.
3. I, Undocumented (Yo, indocumentada)
Andrea Baranenko) | 2013 | 61 min
Spanish language with English subtitles
SAT 20 6:45PM | MON 22 9:00
Tamara, Desirée, and Victoria are three Venezuelan women with little in common. Tamara is a lawyer, Desirée is a hairdresser, and Victoria, the youngest of the three, is an art student. However, they all share the same challenge: they must all carry IDs with men's names on them. They are transgender women, who long ago assumed their gender and now struggle in a still homo-transphobic society.
4. My Straight Son (Azul y no tan rosa)
Miguel Ferrari | 2012 | 110 mins
Spanish language with English subtitles
SAT 20 8:30PM | WED 24 8:30PM
Diego is just an average guy with an average family and average friends. But there is something that makes him somewhat unique among them. He has a heterosexual son. One father, one son. Both of them will need to fix their differences. Azul y no tan Rosa- everything depends on how you look at things.
5. Cecilia and the Girls (Cecilia y las muchachas)
Alfredo Anzola and Gabriela Fuentes | 2014 | 113 mins
SUN 21 4:30PM | MON 22 6:15PM
Cecilia and the Girls is the assembly of two medium-length documentaries: Cecilia Bergman Chaves: A Good Life by renowned director Alfredo Anzola, which chronicles the life of charismatic pioneer in the Venezuelan media, Cecilia Martinez; and The Girls by young director Gabriela Fuentes, which depicts the fight of the Venezuelan Women's Union against the heinous dictatorship of Pérez Jiménez.
6. The Law (La ley)
Pablo de la Barra | 2013 | 105 mins
Spanish language with English subtitles
SUN 21 6:15PM
In this comedy set in Spain and Venezuela, Peter is an upright man about to be appointed judge of a superior court in Spain. Then he suddenly gets a call that informs him that his grandmother in Venezuela is dead. Having learned of the tragic news, he packs his suitcase, never imagining what the colorful country will bring to him.
7. La Casa del Ritmo: A Film About Los Amigos Invisibles
Javier Andrade | 2012 | 105 mins
Spanish language with English subtitles
SUN 21 6:45PM | WED 24 9:00PM
A compelling story about Grammy-winning, Venezuelan funksters Los Amigos Invisibles, from their early days playing in Caracas, Venezuela, to being discovered by David Byrne of Talking Heads and their rise to international stardom.
8. The House at the End of Time (La casa del fin de los tiempos)
Alejandro Hidalgo | 2013 |
100 mins Spanish language with English subtitles
SUN 21 8:30PM | WED 24 6:15PM
Dulce is a family-oriented woman who has encounters with apparitions at her old house, where a terrible prophecy unfolds. Thirty years later, Dulce, now an old woman, returns to the house to decipher the mysterious tragedy that has tormented her for so long.
9. The Silence of the Flies (El silencio de las moscas)
Eliezer Arias | 2014 | 93 mins
Spanish language with English subtitles
MON 22 8:30PM
Marcelina (48) and Mercedes (56) live around farming communities in the Venezuelan Andes. Both share the same tragic story: their daughters committed suicide, as many others in this part of the country had done in the previous year. This is a story of the everyday lives of people dwelling in a world of guilt and pain in which silence seems to be the only escape.
10. Azú, Princess' Soul (Azú, alma de princesa)
Luis Alberto Lamata | 2013 | 122 mins
Spanish language with English subtitles
TUE 23 6:45PM
The movie follows a group of slaves as they flee a sugarcane plantation looking to find a "cumbe." Meanwhile, they are being chased down by Don Manuel Aguirre, an obsessed farmer who has set his sights on Azú, a beautiful slave with an ancestral destiny. Action, mysticism, and the struggle for identity come together in this feminine story wrapped in jungle and magic.
11. As God Made Us (Como Dios nos trajo al mundo)
Maury Marcano | 2013 | 63 mins
Spanish language with English subtitles
TUE 23 9:00PM
From an early age, Maury was captivated by eroticism. While studying film, she sought out a mentor who would teach her the art of strip-tease and would also allow her to make a movie about it. She found that person in Inés -a single mother working two jobs to support her son- who agrees to guide Maury through her world. This is the beginning of a journey that takes them to the deepest parts of themselves, proving that there is freedom in the lives they've chosen.
12. Abroad (Desde Afuera)
Pedro Camacho and Johann Pérez | 2013 | 64 mins
Spanish language with English subtitles
WED 24 6:45PM
Leo moves to London to work as a full-time musician; Edu also moves to London, but soon afterward has to move to Croatia. Claudia and Santiago get married and are preparing to move to the United States. Amalyn goes to Tokyo to try to become a dancer. Melissa travels to Australia, where she struggles to raise her daughter with Venezuelan values. Abroad is a collective portrait that explores distance, identity, and the day-to-day lives of Venezuelans living abroad.
13. Aguas Dulces: Graffiti in the Coast of Uruguay
Adriana Berroterán | 2013 | 31 mins
Spanish language with English subtitles
WED 24 6:45PM
From Buenos Aires, a few graffiti artists embark on a summer trip to Aguas Dulces (Sweet Waters), a town on the coast of Uruguay, as part of an artistic residency experiment in which they live and create together while surrounded by nature. During their journey, they connect with the locals, who become spellbound by their art and in turn express their emotions in permanent, colorful, and joyful works now embedded in this town's legacy.
Conquering the Fort (Conquistando el fuerte)
Charles Martínez | 2013 | 52 mins
Spanish language with English subtitles
MON 22 6:15PM
14. Conquering the Fort portrays the lives of Moisés (13), Mariano (11), Michele (12) and Anthony (12), who've been friends ever since they can remember, and who from early childhood have been telling the story of their hometown Juan Griego to the dozens of people who visit the Galera Fort on Margarita Island, Venezuela.
ABOUT VENEZUELAN FILM FESTIVAL IN NEW YORK
The Venezuelan Film Festival in New York (founded by Irene Yibirin), is dedicated to delivering the best, most diverse and honest representation of current Venezuelan Cinema to American audiences. The film festival first appeared in 2013 as FesNuCiVe, Festival del Nuevo Cine Venezolano. In 2013, the inaugural Venezuelan Film Festival in New York had an audience of approximately 1,200 people, screening 8 films in a total of 12 screenings and garnered media attention for its bold film program. Now, in its second year, Festival organizers have doubled the size of the program from last year and are expecting to double attendance this year.
DOWLOAD MEDIA KIT: http://storyboard.me/venezuelanfilmfest
FESTIVAL HASHTAG: #venfilmfest