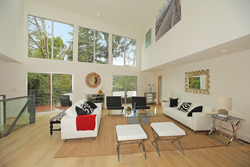 Santa Monica, CA (PRWEB) May 01, 2014
The 2014 Venice/Santa Monica Modern Home Tour will take place this weekend on Saturday, May 3, 2014. Throughout the day, tourgoers will have the rare chance to see the inside of some amazing private homes in the Venice Beach and Santa Monica neighborhoods of Los Angeles. Attendees will learn from homeowners what it's like to live in a modern home and find out where the architects got their inspiration - directly from the source. The tour is self-guided and self-driven, allowing guests to explore these modern treasures at their own pace.
The homes on this year's Venice/Santa Monica Modern Home Tour include:

An amazing home designed by Deborah Richmond Architects that offers an office on the lower floor, and an upper apartment with views of Los Angeles's Westside, including the Getty Museum, Santa Monica Mountains and Marina del Rey, all from the deck.
A wonderful home, designed by Ortiz Mexia Projects, Inc., that was inspired by the family's life adventures and personal desires, and then composed of materials and systems chosen for elegant simplicity, and endurance.
An incredible home in Santa Monica, designed by Shubin + Donaldson Architects, that is not only produces more electricity than it can consume (very green living!) but also instigates new forms of interaction and connectivity within the family thanks to one large room for living, eating, making and talking – and no TV!
A gigantic Santa Monica residential compound, built in 1979, that features two complete residences: a 4-bedroom home with an open contemporary floor plan, and a 3-bedroom home with high ceilings and great views of the area. This home is currently on the market for $3.485 million.
The A + D Architecture and Design Museum> Los Angeles has been selected as the benefitting non-profit partner for the 2014 Venice Beach Modern Home Tour. They will help staff the event in exchange for a donation and opportunity to use the tour as a fundraising vehicle. A reception will follow the tour (5 to 7PM) at the Hennessey Ingalls Bookstore in Santa Monica. Tourgoers can attend and enjoy light refreshments, meet an architect, and receive 10% any in-store purchases.
Participating homes in the 2014 Venice Beach/Santa Monica Modern Home Tour will open their doors for viewing from 11AM – 5PM on Saturday, May 3rd, throughout neighboring Venice Beach and Santa Monica in Los Angeles. All are invited to attend. Kids under 12 are FREE (when accompanying their parents). Tickets for the tour are just $25 in advance online; $30 on the day of the tour. For more details and to buy tickets, visit http://modernhometours.com/event/venice.
About Modern Home Tours, LLC: Based in Austin, Texas, Modern Home Tours, LLC was founded by partners Matt Swinney & James Leasure in 2010 to introduce modern architecture and living to people across the nation. Through fun and informative tours in dozens of cities across the USA and Canada, the group invites people into some of the most exciting examples of modern architecture and design in the nation. With carefully selected architects, neighborhoods and architecture, the Modern Home Tours are unlike anything you've ever seen. Not only will you learn about the cutting edge of home design while on our tours, but you might even get an idea or two for your next home project!