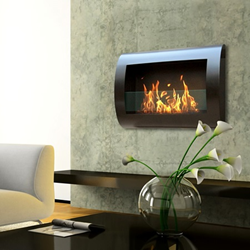 Surrounded by some holiday greenery, a table-top ventless fireplace makes a beautiful, eye-catching centerpiece that can add a little warmth (literally and figuratively) to a room during the holidays.
(PRWEB) January 10, 2015
HomeThangs.com, the Online Home Improvement Store, has made it their goal to deliver the right products to the consumers. With that in mind, shopping and home design tips, as well as special product selections are being introduced.
There's nothing that says winter like lighting a fire in a fireplace. But traditional fireplaces are fast becoming a thing of the past, as concerns for energy efficiency take precedence over old world aesthetics. Ventless fireplaces offer a modern alternative to a conventional brick-and-mortar fireplace, and are completely self contained, so they can even be used in small spaces like apartments. HomeThangs.com has introduced a guide to a few reasons why these unique fireplaces are worth having for the holidays.
Unlike conventional wood or gas-burning fireplaces, ventless fireplaces produce no smoke or ash, and no harmful byproducts. Instead, they use an extremely clean burning liquid bio-ethanol that only produces a small amount of carbon dioxide when burned, so the fireplaces themselves don't need to have chimneys or flues. In fact, they can be installed almost anywhere, whether it's mounted to a wall like a TV, or simply set on a tabletop.
That means ventless fireplaces are perfect for spaces where traditional fireplaces simply aren't viable. While they may not have the same brick-and-soot charm of a more traditional design, ventless fireplaces offer the same beautiful, live flame and ambient heating, which makes them the perfect addition to a room during the holiday season. And since they come in such a wide variety of sizes, from about the size of a conventional fireplace all the way down to ones small enough to fit in the palm of a hand, they're flexible enough to fit in almost any space.
For more information about different types of ventless fireplaces, how they work, and why they're a simple and easy addition for the holiday season, check out the full article here.
HomeThangs.com is not only a home improvement superstore, it also provides expert design tips and a comprehensive shopping guide, taking the ideas from professional interior designers, and offering tips to the consumers on how to pick the products to best suit their needs.