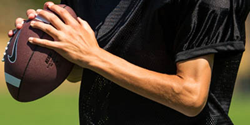 We are thrilled to be able to offer this camp to the youth football players in the area.
San Rafael, CA (PRWEB) April 13, 2017
US Sports Camps and Gamebreaker Softshell Helmets have partnered to bring the Gamebreaker Flag Football Skills Camps to young athletes across the country this summer. These camps are devoted to protecting youth in sports and offering athletes the opportunity to play the sport of football they love. Campers will train with top coaches, enjoy competitive drills and flag competitions all while reducing the risk of head injuries and concussions.
The Gamebreaker Flag Football Skills Camp at St. Bonaventure High School will be directed by Coach Timo Lunceford of Impact Training who will be joined by his coaching staff of players and current coaches. Youth Football and High School Football players will train at the positions of their choice while being educated on the proper fundamentals and techniques to ensure concussion safety and education. As part of the camp program, every camper is given a Gamebreaker Softshell Helmet as part of their camper package.
"Timo and his staff are excited to bring this Non-Contact Flag Skills Football Camp to Ventura County. We are thrilled to be able to offer this camp to the youth football players in the area," states Mike de Surville, Senior Vice President of US Sports Camps.
Players, Coaches, Parents and others interested in the 2017 Gamebreaker Football Camps can visit http://www.ussportscamps.com/football or call 1-800-645-3226
About US Sports Camps
US Sports Camps (USSC), headquartered in San Rafael, California, is America's largest sports camp network and the licensed operator of NIKE Sports Camps. The company has offered summer camps since 1975 with the same mission that defines it today: to shape a lifelong enjoyment of athletics through high quality sports education and skill enhancement.