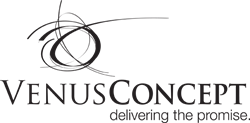 The new LiftFX and SculptFX will be an advancement on this already proven technology for non-surgical treatment of the face, neck and body and we look forward again to being one of the first to offer it.
Toronto, Ontario (PRWEB) October 16, 2013
Venus Concept announced today the release of the Venus Legacy™ platform, featuring two new revolutionary pain-free and safe solutions for non-invasive aesthetic medical treatments. The 4D technology, provides immediate, long term results for body contouring, cellulite reduction, stretch mark reduction, wrinkle reduction and skin tightening for the face, neck and body, with NO pain, discomfort or downtime, thus allowing patients to return to their daily activities right away.
"We are excited with the release of this evolutionary device. With the unparalleled success of our flagship system Venus Freeze™, and the global attention we garnered from the media and patients alike, we anticipate an even better consumer response and acceptance of our new Venus Legacy™ platform," stated Domenic Serafino, CEO & Co-Founder of Venus Concept.
The Venus Legacy™, one-of-a-kind, 4D technology simultaneously combines the proven Multi-Polar Radio Frequency (RF) and Pulsed Magnetic Fields (PMF), as well as, the new VariPulse™ and Real Time Thermal Feedback features.
The Multi-Polar RF is used to deliver focused heat to various tissue depths targeting and disabling fat cells while also stimulating the growth of new collagen. PMF is used to accelerate the healing and rejuvenation process by increasing blood flow and cellular nourishment, which helps in slowing down aging. The new VariPulse™ is an adjustable pulsed suction feature designed to deliver the combined energies more uniformly with rapid homogenous heating to stimulate lymphatic drainage and enhance patient comfort throughout the treatment.
Combined, these groundbreaking technologies create a dense energy matrix penetrating into multiple tissue depths, giving visible, long lasting results and increased patient satisfaction. Finally, Real Time Thermal Feedback allows for superior operator ease and comfort, which is delivered through ergonomically designed headpieces and intuitive software. The strength of the 4D technology allows for superior efficacy in a pain-free treatment delivering the best patient experience.
"Our practice was one of the first to offer Venus Freeze and to date we have treated over 10K patients with tremendous results. The Venus Legacy will be an advancement on this already proven technology for non-surgical treatment of the face, neck and body and we look forward again to being one of the first to offer it," stated F. Victor Rueckl, MD – Board Certified Dermatologist – Las Vegas, NV.
The Venus Legacy™, like our previous technologies, will be offered by way of our very popular and unique low risk subscription business model, which also includes ongoing marketing and clinic enhancement services.
For additional information about Venus Legacy treatments delivered through the Venus Legacy™ platform, please visit our website: http://www.venusconcept.com. Find us on Facebook, Twitter and LinkedIn.
About Venus Concept
Venus Concept is a leading developer and manufacture of devices for the medical aesthetic market. The company has set out on a mission to provide high performance products that allow aesthetic practitioners to confidently offer effective, safe and profitable solutions to their clients. Since its establishment, the company has been committed to the highest standards of client satisfaction.
For additional media information, please contact Tania Semper, Marketing Communications Manager at Venus Concept: tania(at)venusconcept(dot)com.
*Venus Legacy™ is currently cleared by the FDA for temporary facial wrinkles and rhytides.