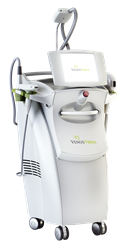 Combined with our industry leading marketing support services, we are very confident that the Venus Versa™ will provide our customers significant financial returns on investment
Toronto, Canada (PRWEB) November 23, 2015
Venus Concept, a leading medical aesthetic solutions provider, is excited to announce that Venus Versa™, its newest multi-treatment platform, has received Health Canada license for use in skin rejuvenation and hair removal applications. Now Canadian practitioners will be able to offer multiple treatments with one device, as well as benefit from Venus Concept's unique business model, which provides the highest return on investment and a fully customizable payment plan.
Venus Versa is the newest non-invasive technology platform to join Venus Concept's award-winning product portfolio. It is a multi-treatment aesthetic workstation that uses Intense Pulsed Light (IPL) technology to deliver intense but gentle bursts of energy onto targeted areas of the skin. Its breakthrough cooling technology, precise and consistent energy delivery, and fast treatment cycles results in the best patient experience in treating all hair and skin types in a range of aesthetic treatments including pigmented and vascular lesions, and permanent hair removal.
"Venus Versa™ Health Canada approval is a key step in our product portfolio evolution. It allows us to broaden the non-invasive technology solutions for our customers while providing them with financial flexibility with our subscription-based business model. Combined with our industry leading marketing support services, we are very confident that the Venus Versa™ will provide our customers significant financial returns on investment" stated Domenic Serafino – Chairman, and Chief Executive Officer of Venus Concept.
Venus Concept's products boast international recognition for providing non-invasive treatments that are safe for all skin types – and with no pain or downtime. Unlike surgical alternatives,products such as the Venus Versa™ are able to provide the benefits of smoother, clearer, more youthful skin without having to go through anaesthesia, incisions, or any recovery time.
"Venus Versa™ raises the bar in terms of both aesthetic professionals' versatility and patient comfort and satisfaction" said Joyce Morris, Canada Sales Director at Venus Concept. Aesthetic practices in Canada can now offer more treatments to clients with all hair and skin types; and patients can experience less pain during treatments and see improved results quickly.
About Venus Concept
Venus Concept is leading the medical aesthetics industry with its customer centric approach to developing, distributing and servicing technology devices for use in skin tightening, body contouring and skin rejuvenation for the face, neck and body. Led by a team of experienced executives and researchers. Venus Concept is world renowned for their achievements in the industry, delivering the promise of a more effective, pleasant and profitable experience.