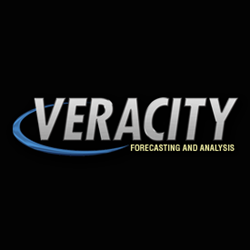 the award is an excellent fit for the team's capabilities based on its combination of unmatched technical credentials
Alexandria, Va (PRWEB) December 03, 2014
Veracity Forecasting and Analysis, Inc., is pleased to announce the award of an indefinite delivery/indefinite quantity contract to provide advanced Research and Innovative Technical Analysis services in partnership with its teammate, PowerTen, Inc. The award has been issued by Commanding General, Marine Corps Combat Development Command to fulfill Marine Corps Study Systems (MCSS) requirements.
Veracity and PowerTen will provide in-depth studies and analyses in any of 23 technical areas of expertise, including mission-level and agent-based modeling, simulation, and wargaming; cost estimation and cost/benefit analysis; decision and feasibility analysis; scenario development; optimization, mathematical programming, statistics, and probability; and concept development and concepts of operations.
Veracity's President and CEO Mike Macedonia said the award is an excellent fit for the team's capabilities based on its combination of unmatched technical credentials, analytical capabilities, and substantial operational experience. "We're thrilled to support the MCSS effort with our unique brand of high-impact analysis," Macedonia commented.
About Veracity
Veracity Forecasting and Analysis is an emerging small business that develops predictive analytic methodologies, prototypes computational forecasting tools, and leverages those tools to improve decision-making. Veracity delivers unquestionable integrity, rigor, and precision in meeting its customers' analytical needs. Veracity is committed to providing enterprise leaders with critical tools to inform high-stakes decisions that maximize the value of scarce resources. Visit http://www.veracityFA.com for more information.