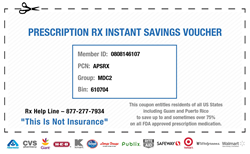 Margate City, NJ (PRWEB) September 04, 2014
Recent reports from the Centers for Disease Control indicate that nearly 7% of the US population is currently dealing with chronic obstructive pulmonary disease, or COPD (cdc.gov/Features/copdadults/). It may also be called COLD (chronic obstructive lung disease), because airways in the lungs are impeded, inflamed, or easily collapsible. Sufferers experience shortness of breath, phlegm in the lungs, coughing, and general discomfort. Treatments for COPD can include bronchodilators, physical therapy, quitting smoking, and inhaled steroids like Veramyst or Avamyst. These drugs can be expensive, which is why MedicationDiscountCard.com offers Veramyst discount cards that treat COPD, along with discounts on other similar medications. These discount cards can save patients 10-75% on prescription drugs that treat or help manage COPD.
COPD is most commonly caused by smoking, but may be caused or exacerbated by pollution, poor air quality, or even family history. Long-term exposure to carcinogens in factories or poorly ventilated kitchens also impact COPD. As the disease progresses, symptoms can worsen and may include chronic fatigue, shortness of breath during non-strenuous activities, and compromised immune response—leaving patients open to other infections. When left untreated, chronic obstructive pulmonary disease causes early death. Savings via a medication discount card can not only help save lives, but also improve the daily lives of sufferers by helping them afford medications like Veramyst to treat COPD or COLD.
Savings are easy to get at MedicationDiscountCard.com—patients simply print the free card at the company's website. Cards can be printed for same-day use, or may be delivered via postal mail upon request. Medication discount card savings of 10-75% can be obtained at thousands of local and chain pharmacies across the United States. These cards can be used as often as needed on prescription medications that are not covered by existing insurance. Uninsured families can also benefit by using these no-cost medication discount cards for their prescribed medications, like Veramyst, Albuterol, Prednisone or Serevent.