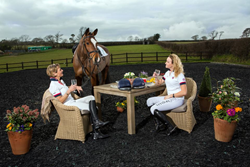 Mary and Emily embody all that is great about British equestrianism and it is a privilege to be associated with them.
(PRWEB UK) 6 June 2014
Suffolk-based contemporary garden furniture specialists Verdon Grey are proud to announce their sponsorship of British event riders Mary King MBE and her daughter Emily King. Mary is an experienced equestrian who has been part of the British Olympics team six times, and her daughter Emily, aged 18, has already picked up a number of medals at junior level. Both are looking forward to the 2016 Olympics in Rio, and this sponsorship will help them both not only through the current equestrian season but through the hard training for Olympic qualification.
Annalie King, of Verdon Grey said: "We here at Verdon Grey are very excited about this new partnership. Mary and Emily embody all that is great about British equestrianism and it is a privilege to be associated with them. Verdon Grey look forward to working with Emily and Mary to develop and nurture this new relationship into something spectacular."
The aim of the sponsorship is to create a lasting relationship between the two brands, building on each other's success to provide continued growth. For the riders, the sponsorship helps them to concentrate on their training and cover the costs of their sport, while Verdon Grey appreciate the opportunity to establish their brand as a household name. Emily King has already been seen sporting the Verdon Grey logo on her jodhpurs at events including the recent Chatsworth International Horse Trials; both riders wear a Verdon Grey logo badge, and the company's logo is displayed on their lorry.
Mary King MBE has been competing in British Eventing since her first appearance in the Badminton Horse Trials in 1985, and has been British Champion four times. She has represented Great Britain in the Olympics six times, from 1992.
Emily King started eventing at the age of eleven, and was named the National U21 (Under 21) Champion last year. She will be competing this year at CCI3* and CCI4* level for the first time – something she was unable to do last year due to age restriction rules despite having competition horses ready for that level.
Based in Suffolk, Verdon Grey are a well-established company with many years' experience and expertise in furniture design. Their luxury garden furniture has been designed to offer outstanding weather resistance, providing customers with a high-quality and attractive product. With a number of stylish ranges in different styles and materials, customers can choose a matching, co-ordinating or contrasting set to their own tastes.
For more information on Verdon Grey and their range of contemporary garden furniture, please visit their website at http://www.verdongrey.co.uk.