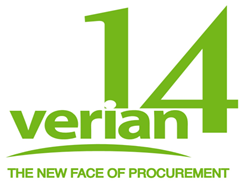 By all measures, and through all industry and customer feedback, Verian's platform now leads the market.
Charlotte, NC (PRWEB) October 29, 2014
Verian announced today that the latest version of its cloud-based Purchase-to-Pay Suite is live and in production across its customer tenants. Version 14 of Verian is a monumental release for the company, one that sets a new bar for the purchasing solution market. Verian has been developing purchasing software for almost 2 decades, longer than almost any other major P2P vendor. While Verian is noted for having the broadest and deepest functionality derived from its tenure in the market, V14 now delivers those solutions in an easy-to-use interface, built for the mobile workforce, with new intelligence capabilities to drive deeper savings and compliance.
"My challenge to our development team was very clear," said Tehseen Dahya, President and CEO of Verian. "I asked them to take all of the strengths of our platform and deliver them with four guiding principles: 1. Build for the remote and 'on-the-move' workforce. 2. Increase the speed of decision making by offering up relevant information to the user in real time. 3. Create tailored packages that meet the specific needs of the industries represented by our customers. 4. Develop a platform that allows us to rapidly deliver on our innovation roadmap."
"What the team has delivered is beyond my expectations," continued Dahya. "By all measures, and through all industry and customer feedback, our platform now leads the market."
Some of the new paradigms in V14 include:

Simple and Intuitive Navigation and Workflows
Mobile Paradigms: Responsive, Touch Enabled, and Voice Enabled
Comprehensive Modules to Get All Indirect Spend under Management, including Integrated Asset and Inventory Management
Shopping Experience Comparable to Consumer Shopping Sites
Dashboards for Reporting Key Metrics, with Drill Down into Detailed Transactions
"With more than 210 clients using Verian for P2P, and having done so for many years, Verian should clearly be part of the short list for firms looking for a SaaS provider of P2P solutions," said Thomas Kase, VP of Research with Spend Matters, an online authority in the Purchasing Software market. "Verian brings a unique set of assets to the table from a platform and solution perspective."
"Verian has delivered control, visibility and savings to us in spades. We have much more control over our business and have visibility into what is being spent, who is spending and in what areas," said Frank Girolamo, VP of Finance at Ipswitch, Inc. "Verian is easy for my team to use and has helped define our purchasing process. That's been extremely valuable. Partnering with Verian is one of the best things we've done as a company."
Click here for more information and to register for the complimentary webinar, Verian 14: The New Face of Procurement.
About Verian
At Verian, we help organizations achieve world-class cost control by putting all spending details at their fingertips in our broad, comprehensive purchase-to-pay software suite. With over 200 successful implementations, we get it right the first time, configuring software solutions that address companies' unique challenges and industry-specific complexities. We drive value beyond implementation by helping organizations bring every pocket of spend under management with our proven See-Manage-Save™ approach. Learn more by visiting our website at Verian.com.