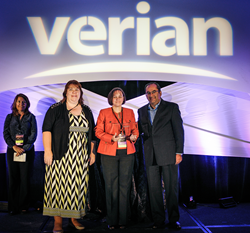 I believe any invoice that enters the Verian system will get paid.
Charlotte, NC (PRWEB) November 03, 2014
Verian announced today that First Horizon National Corporation, headquartered in Memphis, TN, has won the 2014 Verian Innovator Award in the category of "Spend under Management." This award recognizes achievements in managing a high level of diverse spend through Verian's purchase-to-pay solution, and driving significant savings.
First Horizon's practice of managing spend for standard PO and non-PO invoices in the Verian system has enabled them to have visibility into data – allowing them to identify innovative ways to eliminate unnecessary costs. First Horizon uses a combination of Verian's purchasing, invoicing and expense modules to streamline processes and achieve their core goal of "being easier to do business with." They have brought spending from other niche systems within the organization into Verian to have a single platform to see and manage costs.
"In a recent meeting, one of our district managers pointed at the screen and said, 'I believe any invoice that enters the Verian system will get paid,'" said Stormy Smelcer, VP Procurement Operations at First Horizon. "That statement validates all of the hard work we've done over the years, and we couldn't have done it without Verian."
Stormy Smelcer and Amy Freeman, Procurement System Analyst, accepted the award on behalf First Horizon at Verian's Annual Customer Conference, ELEVATE, in Charlotte NC.
"The First Horizon team continues to impress us," said Tommy Benston, VP of Client Advocacy at Verian. "With such a high level of spend under management, identifying savings is critical. Their innovation has challenged us to innovate faster."
About First Horizon National Corporation
First Horizon National Corporation is a premier financial services company with a long history of success and traditions dating back to 1864. Today, the First Horizon name identifies a family of companies, providing a wide range of financial services, and is known for exceptional customer service and a deep commitment to our people. We are a team of almost 4,300 employees working in locations in and around Tennessee and capital markets offices in the U.S. and abroad serving more than 390,000 consumer customers and 48,000 businesses. The strong relationships we forge with our customers and employees provide the foundation for our future success as we grow our strong, community-focused regional bank and capital markets group. Learn more at http://www.firsthorizon.com.
About Verian
At Verian, we work with many financial services organizations to bring complex and diversified pockets of indirect spend under management with our easy-to-use purchasing system. We automate manual and outdated purchasing and invoice approval processes and are repeatedly recognized for rapid implementation and ROI coupled with high user adoption. More information about Verian's specialized purchase-to-pay suite for banks, credit unions, insurance companies, and other financial services organizations is available by visiting the Financial Services page on Verian's website.