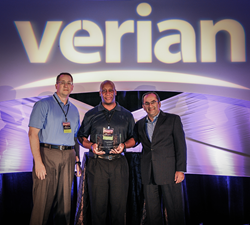 We have a great team, and Verian worked hard to bring our project in right at the 90-day mark.
Charlotte, NC (PRWEB) October 20, 2014
Verian announced today that Members 1st Federal Credit Union, based in Mechanicsburg, PA, has won the Verian Innovator Award in the category of "Time to Value." The award recognizes accomplishments in streamlined processes, outstanding project teams, and highly involved executive sponsors, resulting in accelerated time to value in improving procurement within their organization.
Members 1st recently upgraded to the Verian cloud-based procurement system from an on-premises installation. Led by Mark Robinson, Sourcing Specialist/Contract Manager II, the Members 1st project team provided exceptional and timely deliverables, and was strategically engaged in ongoing status checks throughout the implementation. Their outstanding project management and team participation fostered the accelerated success of the implementation.
"Our entire project team is thrilled to receive this recognition," said Mark Robinson, Sourcing Specialist/Contract Manager II. "We have a great team, and Verian worked hard to bring our project in right at the 90-day mark."
"We like to acknowledge excellence in the work our customers are doing to advance procurement and financial processes within their organizations," said Tommy Benston, VP of Client Advocacy at Verian. "Members 1st has an exceptional group of people, which makes all the difference in the success of strategic implementations such as a procurement platform."
About Members 1st Federal Credit Union
Members 1st Federal Credit Union is a member-owned full service financial institution located in Southcentral Pennsylvania. In 1950, we opened our doors with a desk and small counter outside the personnel office at the Naval Supply Depot in Mechanicsburg, Pennsylvania. We officially adopted the name of DAFCU (Defense Activities Federal Credit Union) in 1972 and opened our first branch office at the U.S. Army War College in Carlisle that same year.
Our name changed to Members 1st in 1994 to reflect our growing field of membership. Today, we have 60 full-service branches including 7 in-school branches. Our 250,000+ members reflect the changing landscape of our geographical footprint as owners of the Credit Union. Being member-owned means we don't have to pay out big dividends to stockholders. Since 1950, our members have been an integral part of who we are, and that remains so today. Learn more at http://www.members1st.org.
About Verian
At Verian, we help organizations achieve world-class cost control by putting all spending details at their fingertips in our broad, comprehensive purchase-to-pay software suite. With over 200 successful implementations, we get it right the first time, configuring software solutions that address companies' unique challenges and industry-specific complexities. We drive value beyond implementation by helping organizations bring every pocket of spend under management with our proven See-Manage-Save™ approach. Learn more by visiting our website at Verian.com.