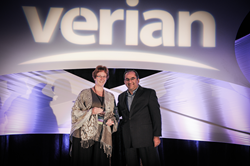 Verian's team was excellent, one of the best I have worked with in my years in IT.
Charlotte, NC (PRWEB) November 10, 2014
Verian announced today that YMCA of the Greater Twin Cities, a not-for-profit organization dedicated to building healthy communities, has won the Verian Innovator Award in the category of "Time to Value." The award recognizes accomplishments in streamlined processes, outstanding project teams, and highly involved executive sponsors, resulting in accelerated time to value in improving procurement within their organization.
The YMCA of the Greater Twin Cities project, led by Director of Purchasing Heidi Murphy, used a strong rollout plan mixed with a wide-ranging communication strategy that included social media and personalized training strategies. Their quick decision making, concise goals and creative approach to user adoption allowed them to go live in less than ninety days with Verian Purchase Manager, 12 Vendor Punchouts, and AP integration with Microsoft Dynamics GP.
"Some companies can enforce policy to ensure employees use a procurement system," said Heidi Murphy. "We had to entice people by making it easier for them to use the system than to go to Walmart or Amazon. Verian's team was excellent, one of the best I have worked with in my years in IT. They were by my side the entire time to make sure our project was successful, and we were realizing the benefits we set out to achieve. Kudos."
"The YMCA of the Greater Twin Cities has a mission to serve its community and its donors as good stewards," said Tommy Benston, VP of Client Advocacy at Verian. "Heidi Murphy spearheaded this project and worked tirelessly to put spending controls in place that are paying back to her community and enabling greater progress towards their mission."
About YMCA of the Greater Twin Cities
The Y's mission is to put Christian principles into practice through programs that build a healthy spirit, mind and body for all. We're an inclusive organization of people committed to nurturing the potential of kids, promoting health and wellness and encouraging social responsibility. For more information, visit http://www.ymcatwincities.org.
About Verian
At Verian, we help organizations achieve world-class cost control by putting all spending details at their fingertips in our broad, comprehensive purchase-to-pay software suite. With over 200 successful implementations, we get it right the first time, configuring software solutions that address companies' unique challenges and industry-specific complexities. We drive value beyond implementation by helping organizations bring every pocket of spend under management with our proven See-Manage-Save™ approach. Learn more by visiting our website at Verian.com.