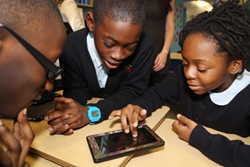 One of three middle school students use mobile devices to complete their homework. Yet very few are using these mobile devices in the classroom.
Reston, VA (PRWEB) November 12, 2013
It's a common scene: Teens tapping and swiping on their cell phone or tablet. One in four teens are "cell-mostly" Internet users, according to the Pew Research Center's Internet and American Life Project's "Teens and Technology 2013" report. Moreover, one in three middle school students use mobile devices to complete their homework. Yet few are using these mobile devices in the classroom, according to a study conducted by Teenage Research Unlimited (TRU) and commissioned by the Verizon Foundation.
In spite of this disparity, middle and high school students are devising some novel ideas to bring to the mobile application marketplace. For the second consecutive year, the Verizon Foundation is partnering with the Technology Student Association (TSA), Samsung and the Massachusetts Institute of Technology (MIT) Media Lab to engage students across the country to conceptualize a viable mobile app.
The Verizon Innovative App Challenge charges teams of students to creatively design a concept for a mobile app that will solve a problem in their school or community. The mobile app design should incorporate science, technology, engineering and math (STEM) principles and content.
"Given the sharp decline in students going into STEM fields, the Verizon Innovative App Challenge provides a great opportunity for students to develop and hone critically important STEM skills on an innovative project," said Dr. Rosanne White, executive director of the Technology Student Association. "We desperately need future generations of knowledge workers who are creative thinkers, who enjoy taking on challenges, and who know how to solve problems."
The Verizon Innovative App Challenge is open to middle and high schools nationwide, and schools can enter one or more teams of five to seven students, led by a faculty advisor. To participate, an advisor needs to register a school's interest at the Verizon Innovative App Challenge website. School teams need to submit a three-minute video explaining the app they want to develop and the problem it would solve to complete their submission. In addition, an essay must detail the team's understanding of the design process, the app's functionality, and its potential impact or outcome. The submission deadline is December 17, 2013. Students and advisors do not have to be proficient in building an app since development experts will guide teams that advance through the competition.
App concepts developed by student teams go through a rigorous judging process at the state and regional level. Ultimately, four high schools and four middle schools—one representing each of four regions—will be chosen as national winners. Those students will then have the opportunity to work with industry experts at the MIT Media Lab to build and develop their app. Verizon will help to bring their app to the mobile marketplace for distribution. The student inventors retain intellectual property rights to the app and any income that is derived from its distribution.
The winning teams can win up to a $20,000 grant for their school from the Verizon Foundation. In addition to the cash award for the schools, every team member from each of the eight winning schools will be awarded a free Samsung Galaxy tablet, courtesy of Samsung Telecommunications America. Also, representatives from the winning teams will receive an invitation from Verizon to attend the June 2014 National Technology Student Association Conference in Washington, D.C. There, they will present their app before an audience of more than 5,000 STEM educators and students in attendance.
Winning apps in the first App Challenge ranged from environmental and health aids to study and organizational helpers. Here are some of the winners:

Chester Study Buddy, designed by South River High School in Edgewater, MD, helps students avoid procrastinating and motivates them to study and work on assignments well before deadlines.
Recycling Bin, designed by STEM Center Middle School in West Fargo, ND, enables users to find local recycling centers, save locations as favorites and set reminders to recycle on their devices.
In 2012, the U.S. STEM workforce surpassed 7.4 million workers, and it is expected to grow significantly through 2018, to an estimated 8.65 million workers, according to a report by STEMconnector® and My College Options®.
Justina Nixon-Saintil, director of education and technology programs for the Verizon Foundation, said, "The goal of the Verizon Innovative App Challenge is to get students interested in STEM. This contest gives students an authentic learning experience and introduces them to many skills such as project management, design, marketing and app development."
For additional entry information as well as tips from the judges and other resources, visit the Verizon Innovative App Challenge website.
# # #
About TSA
TSA is a national organization devoted exclusively to the needs of students interested in science, technology, engineering and mathematics (STEM). Open to young people enrolled in or who have completed technology education courses, TSA's membership includes over 190,000 middle and high school students in 2,000 schools spanning 48 states. TSA partners with universities and other organizations to promote a variety of STEM competitions and opportunities for students and teachers. TSA is supported by educators, parents and business leaders who believe in the need for a technologically literate society. From engineers to business managers, our alumni credit TSA with a positive influence in their lives. Visit the Technology Student Association website for more information.
About Verizon Foundation
The Verizon Foundation is focused on accelerating social change by using the company's innovative technology to help solve pressing problems in education, healthcare and energy management. Since 2000, the Verizon Foundation has invested more than half a billion dollars to improve the communities where Verizon employees work and live. Verizon's employees are generous with their donations and their time, having logged more than 6.8 million hours of service to make a positive difference in their communities. For more information about Verizon's philanthropic work, visit the Verizon Foundation website or, for regular updates, visit the Foundation on Facebook and Twitter.
####