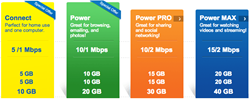 Satellite Rural.com now offers Vermont residents the option to purchase a high speed Internet and unlimited phone calling service bundle saving 25% to 35% on their phone and Internet bill.
Montpelier, Vermont (PRWEB) September 27, 2013
Living out in the country can provide homeowners with peace, privacy and pastoral vistas; and now they can have that, plus all the the modern convenience of satellite broadband services from Satellite Rural (http://www.satelliterural.com) offering high speed satellite Internet and unlimited phone service to all counties and homes in Vermont with speeds up to 15Mbps.
Benefits of Vermont High Speed Satellite Internet:

Download Speeds up to 15 Mbps
Upload Speeds up to 2 Mbps
Faster Than DSL and Most Cable Providers in Vermont
Available Almost Anywhere in Vermont Where Cable and DSL Are Not
Unlimited Phone Calls throughout US and Canada
Does Not Need a Phone Landline
Low Monthly Rate
And much more...
Satellite Rural, an authorized Gen4 satellite retailer, offers high-speed satellite Internet in Vermont as well as additional services such as telephone and home security. Until recently rural satellite, Internet was something remote households could only dream about. They relied on dial-up or slow DSL service from a cable company if they had any Internet service at all.
"Those days are over," says Ron Legarski of Satellite Rural. "After a quick, professional installation, rural dwellers in Vermont can have a broad network coverage, a strong, reliable signal and high-quality Internet service no matter where they live."
Computer users who are tired of broken connections and slow download and upload speeds will find that Satellite Rural offers Vermont satellite Internet that is faster than most cable providers and, in many cases, more affordable.
The Vermont Satellite Internet provider has a variety of satellite Internet plans to suit every household budget in Vermont. With the Gen 4 technology, the satellite service provider has a Power MAX plan with speeds up to 15Mbps and data allowances of 40 GB. That's 500 times the speed offered by ordinary dial-up service and as much as five times faster than conventional DSL service offered by many cable companies.
By opting for Voice, subscribers can also receive telephone service via satellite Internet with all the conveniences they have come to expect, including call waiting, call forwarding and caller ID. Enhanced voicemail features also allow for email and text alerts. Satellite Rural customers can keep their same phone number when they switch to the plan, or choose a new one.
Vermont Satellite Internet service is now available in the following counties in Vermont:
Addison County, Bennington County, Caledonia County, Chittenden County, Essex County, Franklin County, Grand Isle County, Lamoille County, Orange County, Orleans County, Rutland County, Washington County, Windham County and Windsor County.
For more information on the coverage area for Satellite Internet, please visit:
http://www.vsatellite.net/vermont
Satellite Internet in Vermont allows computer users to do all the things they are used to doing online at faster speeds: They can download and watch videos, purchase and listen to music files, play games online, access social media websites such as Instagram and Facebook, a well as enjoy basic website browsing and email capabilities.
Satellite Rural is a new type of Internet service provider in Vermont that uses advanced technology to provide the fastest, most reliable and affordable Internet services for any household, especially rural properties that may lack high speed Internet service currently because of their remote location in VT. Satellite Rural can install a system quickly at your household or office that provides speeds of up to 15Mbps and data download allowances of 40 GB, the highest available in the market today.
For more information on satellite Internet and phone service providers, please call toll free and speak with a representative today at 1-877-247-5156 or by visiting:
http://www.vsatinternet.net