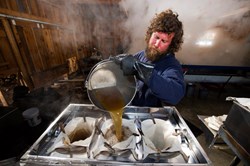 Vermont is the nation's leading maple syrup producer, making 1.3 million gallons of syrup last year. Vermont generates more than 40 percent of the country's maple syrup. It's no wonder Vermont calendars & cookbooks overflow with maple recipes & festivals!
(PRWEB) February 19, 2014
Vermont's maple season is a feast for the senses: Taste the delicate flavor of pure Vermont maple syrup, smell wood-fired maple steam as it wafts through the air; listen to the snow crunch underfoot as you approach a sugarbush and witness Vermont's definitive springtime tradition.
Planning a visit? Explore Vermont's many Maple Season Packages now available; experience maple immersion in "Sugar Maker for a Day," or stay overnight in a restored sugarhouse; take a sugarbush snowshoe tour and dine at restaurants featuring maple.
Vermont is the nation's leading producer of maple syrup. Producing 1.3 million gallons of syrup last year, Vermont generates more than 40 percent of the country's maple syrup. It's no wonder Vermont calendars and cookbooks are overflowing with maple festivals and maple recipes!
Vermont's maple sugaring season usually runs from late February to mid-April. When warm days and cool nights cause the sugar maples' sap to begin to flow again, sugar makers collect sap to boil down to pure Vermont maple syrup. In fact, it takes 40 gallons of sap to create one gallon of maple syrup.
MAPLE SEASON MAJOR EVENTS

Vermont Maple Open House Weekend: March 22-23
More than 80 Vermont sugar makers invite you to visit their farms and sugarhouses. Some sugar makers offer tours and horse-drawn wagon rides, and others welcome you with tastings of this year's crop, sugar-on-snow, and maple donuts. Because no two sugarhouses are the same, plan on visiting more than one! http://www.VermontMaple.org
The 48th Vermont Maple Festival: April 25-27
Enjoy three days of celebrating all things maple! There's a craft and specialty foods show, with cooking demonstrations, a parade, a pancake breakfast, maple buffet dinner, and more maple festivities. Visit http://www.vermontmaplefestival.org.
When asked to what she owes her success, Olympic Gold Medal Winner Hannah Teter said, "It's the syrup!" Sugar makers couldn't agree more! Maple is a pure, natural sweetener that not only adds a distinct flavor to anything it touches but also contains traces of manganese, riboflavin, zinc and magnesium. In Vermont, you'll see many clever uses of maple on the menu: from beer to wine; granola to gourmet dining - there's a food producer, restaurant and maple recipe waiting to tantalize at http://www.DigInVT.com.
MAPLE…FOR ADULTS ONLY
For those seeking more maple indulgence, there's maple massages and libations to enjoy. Relax with a Maple and Honey Scrub at Lake Morey Resort and experience a hydrating Maple and Brown Sugar Scrub at the Spa at Stowe Mountain Lodge.
Vermont Gold Ultra-Premium Vodka
Vermont Gold Vodka is pure, delicate, unflavored vodka, handmade in small batches from the sugar of maple sap, the very essence of Vermont. Vermont Gold is triple-distilled and lightly filtered to allow the distinctive quality of the maple fermentation to come through. Visit the distillery and store in Quechee.
Boyden Valley Winery
Sample Boyden's Vermont Maple Reserve and Maple Crème Liquer. The Maple Reserve is crafted from a blend of apple cider and maple syrup. The Maple Crème Liquer is a premium cream liqueur enhanced by blending in Vermont Maple syrup and apple brandy produced from Vermont grown apples. Samples, tours and events are at their family farm in Cambridge.
Fresh Tracks Farm Vineyard & Winery
At the tail end of the sugaring season, the vintners at Fresh Tracks draw off the remaining maple sap to produce a limited batch of maple wine. Fresh Tracks welcomes visitors to its Berlin location with regular events in its post and beam tasting bar and onsite sugarbush.
Maple is available by the pint too, in Vermont beer! Sample beers infused with Vermont maple syrup from Long Trail Brewery, Lawson's Finest Liquids, 14th Star Brewery and Rock Art Brewery to name a few.
Visit VermontMaple.org to learn more and visit http://www.VermontVacation.com to plan a sweet getaway.