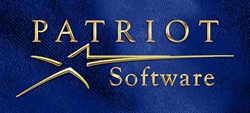 "Employees can log into the self-serve website to see their pay stubs and manage their direct deposit and personal information," said Smith. "This is just a great benefit that employers to offer to employees."
Canton, Ohio (PRWEB) November 12, 2014
With Patriot PAY, Vermont business owners can run payroll anytime or anywhere, whether they are in Burlington, Montpelier, or traveling out of state. Patriot PAY correctly calculates all applicable federal, state, and local taxes with guaranteed accuracy.
Business owners simply log into the software, enter the employees' work hours, and they're finished in a few clicks, said Wendy Smith, payroll manager for Patriot Software. They can also print out W-2 and W-3 forms at the end of the year.
"Patriot PAY is intuitive and easy for small business owners to use," says Smith. With Patriot PAY, customers don't have to worry about tax table or software updates. Patriot PAY customers can also take advantage of free direct deposit and a free employee portal," she explained.
"Employees can log into the self-serve website to see their pay stubs and manage their direct deposit and personal information," said Smith. "This is just a great benefit that employers to offer to employees."
Patriot Software offers two different payroll solutions for customers. With Basic Payroll, employers simply run payroll and take care their own payroll tax deposits and filings. With Full-Service Payroll, business owners just enter their employee's hours, and Patriot Software takes care of the rest. Patriot Software files and deposits all applicable federal, state and local taxes according to the right timing and format for the business.
"Many of our customers don't want the hassle of payroll taxes, and Full-Service Payroll is really a timesaver for them," says Smith.
Business owners can take advantage of free payroll setup, as well as free routine support in the U.S. There are no long-term contracts, and customers can add or cancel the software anytime without penalty. Visit http://www.patriotsoftware.com or call 877-968-7147 for more information.