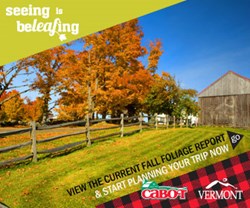 (PRWEB) October 11, 2013
In this week's Seeing is BeLeafing Video Report, come along as we tour the Lake Champlain Valley: visit the Richmond Farmers' Market, meet Don Stevens, Chief Nulhegan Band of the Coosuk - Abenaki Nation at Overlook Park in South Burlington, meet first-time Vermont visitor Lauren from Philadelphia in Burlington and catch a golden leaved sunset at Mount Philo State Park in Charlotte. In the higher elevations of central Vermont, town and village centers are still displaying good foliage colors, contrasting with the dark green of evergreens and the soft gray of hillsides where the leaves have fallen. While higher elevation areas in northern Vermont will be past peak, hikers and leaf-peepers should keep in mind that the views from the trails will be opening and that the understory foliage will still be bright and beautiful.
FEATURED EXCURSIONS:

Vermont Beer Lovers Getaways: a six-pack offering of lodging packages and tasting tours and more ways to savor what The Huffington Post recently called the Best Craft Brew State.
Haunted Highways: Be Spooked in Vermont this Season with Ghost Stories, Creepy Cabarets & Thriller Dance Lessons.
BEST FOLIAGE DRIVES INCLUDE:
In northwestern Vermont, visit the Islands on Route 2: South Hero to Alburgh. Route 7 and local roads are still displaying color both north and south from Burlington.
West of the Green Mountains, try Route 125 between Hancock and Middlebury, Route 7 from Wallingford to Middlebury, Route 100 from Stockbridge to Granville, Route 140 between Wallingford and Poultney, and Route 30 from Castleton Corners to Cornwall. Other suggested diving routes include Route 3 from Pittsford to West Rutland, and Route 4 from Rutland to Castleton.
East of the Greens suggested drives include Route 12 between Randolph and Woodstock, Route 110 between Washington and South Royalton, and Route 14 along the White River from Bethel to Hartford.
In southern Vermont, Route 7A from Manchester to Bennington, Routes 153 and 315 near Rupert, and Route 30 between Dorset and Pawlet are all near peak; to the east explore Route 5 along the Connecticut River, Route 9 between Brattleboro and Wilmington, Route 30 from Brattleboro to Newfane, and Route 11 from Springfield to Londonderry.
Also, explore the Southern Vermont's Byways: the Shires of Vermont, Molly Stark Trail and the Connecticut River Byway, from Vernon to White River Junction.
Whether it's a chicken pie supper or a harvest festival you seek, plan your trip - - at http://www.VermontVacation.com/Fall. Follow the beautiful foliage progression on Twitter via #SeeingisBeLeafing.