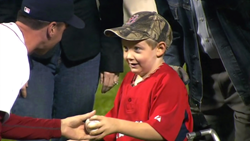 With a population of just over 600,000, Vermont doesn't often knock at the doors of popular culture. But this didn't stop NESN from saying "yes".
Barre, VT (PRWEB) May 15, 2014
Maple syrup, Ben and Jerry's, Birkenstocks, and cows. When it comes to the things Vermont is known for, the list is short. That all changes Sunday May 18th when 4 million regional cable subscribers can tune in for the premiere of a brand new documentary telling the unforgettable stories of Vermont Red Sox fans.
With a population of just over 600,000, Vermont doesn't often knock at the doors of popular culture. But this didn't stop NESN, the nation's leading Red Sox network, from saying "yes" to the opportunity to air a documentary in which Vermonters re-define what it means to "B Strong".
Audiences will meet:

PAT O'CONNOR: creator of "Little Fenway", a functional to-scale model of the iconic ball park in his own backyard.
JASPER GOODMAN: 14 year old prodigy in sports journalism, who has interviewed Red Sox players and worked as a professional commentator since elementary school.
HAZEL DEVINO: a 101 year old devotee with a unique perspective on the curse, beards, and lifelong fandom.
KYLER QUELCH: a 10 year old living with Cerebral Palsy who's wisdom-beyond-his-years is at the heart of "B Strong".
In a word, these Vermonters are "textbook" Red Sox fans: lifers who make game-viewing a priority, as well as a passion that spills into all areas of their life. Perseverance is what ultimately connects them to the history of the Red Sox.
When asked how long he's been a Red Sox Fan, 10 year old Kyler Quelch emphatically responds, "Ten Years!" before repeating self-reflectively, "Ten years... Ten years…" Quelch reveals a wisdom that far exceeds those ten years, explaining of his Cerebral Palsy: "it's a good challenge for me, a good life lesson." Quelch's father emotionally points out a parallel between his son's attitude toward CP and his attitude toward the Sox, "They'll have a bad game or a bad season, and he's always optimistic that they'll bounce back."
The Quelch family is in good company with the all Vermont cast, all of whom exude that humble charm which makes Vermonters both extremely worthy yet extremely unlikely for television's spotlight. Just how did residents of the most rural state in the country become the subjects of primetime attention?
Green Mountain Dreamers made its way to national television through the vision of Bond Auto Parts, a nearly 60 year old Vermont-based company. For the past two years, Bond has been the Official Auto Parts Retailer of the Boston Red Sox. But Bond did far more than slap their logo on this piece; their founders are infused within the story, with a fandom rivaling that of the other Vermonters depicted. There is a moment in the film where George Bond quietly contemplates the partnership they have with the Red Sox, admitting "We feel like they're almost part of our family."
To produce the documentary, Bond turned to another Vermont based team: Mt Mansfield Media, a production house that specializes in powerful community stories. With Mt Mansfield on board, the production became a full-blown Vermont export, born, bred, and packaged in the Green Mountain State.
Following its TV debut, Green Mountain Dreamers will continue to air on NESN, and could soon be available on the shelf within the New England market. MLB is in conversation with Mt Mansfield Media regarding the distribution rights. For now, audiences hoping for for a sneak peek can view promos online at Bond Auto Part's youtube channel.