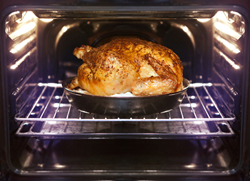 Ovens and the way we cook turkeys have really come a long way. These features help ensure you're going to get the perfect turkey every time.
Kelowna, BC (PRWEB) December 22, 2014
As homeowners' minds turn toward the holidays and the quest to cook the perfect turkey, a Vernon appliance store is offering tips on which new oven features will help chefs present a delicious bird this Christmas.
"Some of the new oven features really take the guesswork out of cooking a turkey," says Brad Kirkham, owner of Genier's Appliances, who services Kelowna, Kamloops, and Vernon. "It's a proud moment when you look around and see your family enjoying a moist, tasty turkey and asking for seconds."
Homeowners in the market for a new oven heading into the holidays should keep an eye out for these turkey-friendly features:
Size
Families with plans to cook for a dozen or more people might have their eyes on an oversized oven, but Kirkham says that might not be necessary. "Some people get a little size crazy, but the reality is even a 27-inch oven will fit most turkeys."
The average oven width is 30 inches, with European models as small as 24 inches and extra large American models as big as 36 inches.
Steam Assist
This is a new oven feature gaining popularity because with some plumbing in, steam assist issues bursts of steam into the oven, keeping up the humidity for turkeys or even breads and cheesecakes.
Meat Probes
Built-in oven meat probes monitor the core temperature of the meat to reduce the possibility of over or under-cooking a turkey. Some ovens will even shut off automatically when the bird has reached a set temperature.
Advanced meat probes will ask what kind of meat is being cooked and how you want it done so the oven knows to raise the temperature to lock in moisture by searing the outside before dropping back down to finish cooking. Some models will beep at you when there's 45 minutes of cooking left so you know just when to throw in the potatoes.
"Meat probes are designed to almost take over cooking the turkey so mom or dad can sit back and spend more time with family," says Kirkham. Kelowna and Kamloops appliance-seeking residents will even make the drive down to Vernon leading up to the holidays to take a look at this feature in Genier's live kitchen demos. The drive is a small tradeoff for additional family time for many years to come.
Triple Convection and Dual Fan Convection
In addition to faster pre-heats, triple convection ovens help sear turkeys to seal in moisture because hot air is being blown at the turkey from the back side, instead of just being warmed by elements above and below. Some turkey chefs insist on basting to maintain a certain moisture level, but opening and closing the door can drop the temperature of the oven, which really needs to be consistent.
Ovens with dual convection use oscillating fans blowing back and forth in a figure-eight direction to ensure fewer dead spots and a more even sear.
"Ovens and the way we cook turkeys have really come a long way," says Kirkham. "These features help ensure you're going to get the perfect turkey every time."
When Okanagan families are searching Kamloops and Kelowna appliance stores for ovens to help cook a delicious bird or roast, they can simply head to Genier's Appliances in Vernon, offering the best selection and service in the Interior.
For more information, please contact:
Brad Kirkham
Owner, Genier's Home Appliances
250-545-0664
http://www.geniers.com