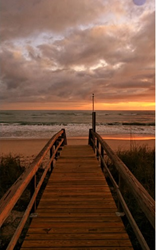 Vero Beach, Florida (PRWEB) June 12, 2014
An estimated 15,000 to 20,000 sea turtles nest each year along a 20-mile stretch of protected coastline called the Archie Carr National Wildlife Refuge, which includes Windsor's beach. This refuge is a vital nesting area for the loggerhead turtle, green turtle and, occasionally, the rare leatherback turtle.
The Archie Carr National Wildlife Refuge represents the nation's most significant land conservation and acquisition initiative to protect sea turtle nesting areas, which require long expanses of quiet, preserved sandy beaches. Though the turtle nesting season runs from March through October, the best time to view sea turtles via guided night-time observation is in June and July. Windsor Members and guests have access to Windsor's beach and oceanfront amenities through a convenient private tunnel from the Village Centre. An elevated boardwalk, designed to preserve the natural dune, leads from the Beach Club pool to Windsor's beach.
A New Urbanism development, Windsor is a diverse, mixed-use community that has preserved its natural surroundings, providing a "sense of place" that is sustainable, connected and walkable. The seaside village features architecture and landscape design that celebrates local history, climate, ecology, and traditional building practices. Narrow streets, lush gardens and miles of walking and equestrian trails under old Florida hammocks are punctuated with iconic buildings such as the Léon Krier-designed Town Hall and the Exedra, Windsor's outdoor amphitheatre. The private residential community offers an outstanding selection of homes and homesites including Village, Golf and Oceanfront homes, cottages and country estates; all are remarkable for their signature Anglo-Caribbean architecture and gracious living.
Vero Beach is located in a climatic transition zone that's long been known for its cool ocean breezes, tropical palm trees, and mix of vegetation and wildlife that thrive in this lush and unspoiled setting. The Indian River Lagoon, a natural estuary, features exceptional nature attractions including Pelican Island National Wildlife Refuge, the historic Jungle Trail, McKee Botanical Garden, and the Environmental Learning Center. The area is also a haven for golf, water sports, nature tours and fishing.
For more information on Windsor and its limited offering of Vero Beach real estate, visit http://www.windsorflorida.com.