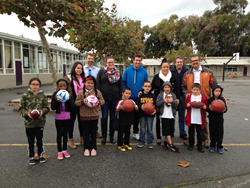 Family Dollar and Versaic share a vision about the important role businesses can and should play in building healthy, thriving communities.
San Mateo, CA (PRWEB) December 02, 2014
Versaic has partnered with client Family Dollar to support #GivingTuesday, the global day of giving back held today. The two companies provided vital school supplies to support the Belle Haven School in Menlo Park, CA. The donations from Versaic and Family Dollar included book bags to support the school's literacy program, sports equipment as well as classroom essentials such as art supplies.
Belle Haven School is part of the Ravenswood School District, located in the heart of Silicon Valley. Unlike many of the surrounding schools that are flush with resources, the Ravenswood schools have a majority of English language learners and 90% are considered low income. The support provided by Versaic and Family Dollar is part of a larger community effort to put the Ravenswood schools on par with other local schools.
"Family Dollar is proud to partner with Versaic for this great cause," said Family Dollar's Executive Vice President and Chief Merchandising Officer, Jason Reiser. "Giving back to the communities we serve is very important to Family Dollar. We are thrilled to team up with Versaic to provide children with school supplies, toys and other essentials during the holiday season."
Burt Cummings, CEO of Versaic, said, "We are fortunate to have clients like Family Dollar who are deeply committed to giving back. They have an active philanthropy program of their own but when we mentioned our plans to help Belle Haven, they jumped right on board to support the effort. Family Dollar and Versaic share a vision about the important role businesses can and should play in building healthy, thriving communities."