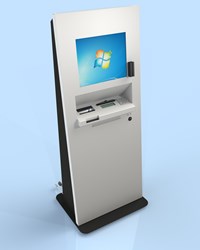 Designed to be the most versatile kiosks on the market.
Medfield, Massachusetts (PRWEB) January 07, 2014
Comark Corporation will feature their new Versa-One and Versa-Two Kiosks at the NRF Big Show being held from January 13th – 14th at the Jacob Javits Convention Center in New York City.
The Versa series kiosks are designed to be the most versatile kiosk on the market. The Versa-One kiosk accommodates a variety of monitor sizes (19", 21.5 and 24" in landscape or portrait orientation), cameras, scanners/readers, printers, and payment peripherals. The Versa-One is ideal for any self-service application including: ticketing, bill payment, micro-markets, and human resources applications.
The Versa-One Healthcare kiosks will deliver more convenience to patients and visitors by offering self-service solutions in healthcare facilities. Allowing patients, visitors, and vendors to check-in for appointments, submit insurance information, make copayments, access electronic medical records, or search for information.
The Versa-Two kiosk is perfect for informational and promotional applications. The pedestal style kiosk accommodates a variety of large interactive digital signage monitors (32" 42" 47" and 55" in both portrait and landscape). The front access pedestal body can house an assortment of peripherals including QR/Barcode readers, thermal printers, and payment peripherals.
To learn more about Comark's products and services, please visit booth #1001, or contact Scott Plesh at 508-359-8161 ext.115 or by e-mail at splesh(at)comarkcorp(dot)com or Rob Chilcoat at ext.160 or email at rchilcoat(at)comarkcorp(dot)com. For detailed product information, please visit Comarks website at http://www.comarkcorp.com.
About Comark Corporation
Comark designs and manufactures high-performance and ruggedized kiosks, computer and display systems for mission critical applications for retail self-service, building automation, industrial automation, military, marine, and mobile applications. Many of the same design and manufacturing techniques that go into our military solutions are used in our kiosks to provide long term reliable service.
The self-service division offers a variety of standard and custom kiosk and digital signage products for any environment. Comark is driven by more than 38 years of innovation and experience with over 80,000 systems fielded. Comark is ISO 9001:2008 certified.