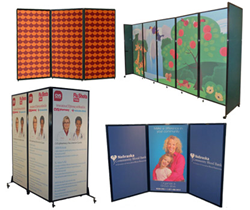 The possibilities are endless, and personalizing a room divider has never been easier.
Minneapolis, MN (PRWEB) June 11, 2014
PortablePartitions.com, by Versare, has announced that several of their popular room dividers, privacy screens, and portable partitions are now custom-designable, offering customers an option to create or upload a design, logo, or image to be printed across the divider of their choice. The in-browser design lab allows single or double-sided partition printing, in addition to a variety of design options, such as color, font style, clipart, or image uploading.
The design lab feature can be found on a selection of customizable room dividers marked with an orange badge. Within a product's page, a customer may select "Create Your Own Design," and then pick a size. From there, they are taken to a design site, where options such as color, fonts, and clipart are selectable, in addition to an option to upload their own artwork. Anything from corporate logos to wallpaper patterns can be printed onto the fabric, allowing Versare room dividers to incorporate seamlessly into any office, home, classroom, retail store, hospital, warehouse, or anywhere else requiring a partition to divide space.
Many schools and daycares have utilized the design lab to create murals for classroom dividers, while offices have ordered partition panels with printed corporate logos. Matching wallpaper patterns have been popular design choices for home privacy screens. "With our new in-browser design lab, customers not only have the freedom to pick any color possible, but may also create patterns, designs, and upload logos to advertise their brand," states Versare president Robert Jantschek. "The possibilities are endless, and personalizing a room divider has never been easier."
Versare's room dividers and portable partition panels are built of tackable, sound-dampening acoustical fabric. The aluminum frames are both durable and lightweight, allowing for maximum portability. Partitions such as The Room Divider 360 have been popular choices for school partitions, while The Privacy Screen and Afford-A-Wall have remained top sellers as apartment room dividers for homes. The custom design option is also available on two economical, fabric privacy screens: the VP6 and VP4, providing a range of options that covers most price points.
About Versare:
Versare Solutions, Inc. is a Minneapolis-based manufacturer and retailer of portable room dividers, privacy screens, partitions, barricades, and other portable products. Versare handles the manufacturing and shipping of all products directly from their MN headquarters, with most products being built in the USA. Co-founders Robert Jantschek & Jeff Ryan initially created the company to offer a more lightweight, durable, and sturdy room divider than what had previously been found on the market. Their selection of products has grown over the years to include a wide array of portable barricades, configurable office cubicle partitions, economical fabric dividers, and outdoor wicker privacy screens.