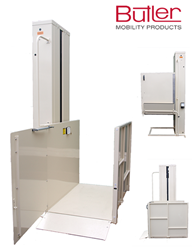 The lifts that last.
Lewisberry, PA (PRWEB) August 22, 2013
Butler Mobility's new Vertical Wheelchair Lifts are a safe and economical solution to make any home accessible. Indoors or outdoors, the Butler Mobility Vertical Platform Lift is a practical alternative to installing cumbersome, slow grade ramps.
Butler Mobility has a long history of manufacturing the "Lifts that Last" with their popular Inclined Platform Lift for wheelchairs. Applying some of the same features and design concepts used in the Inclined Platform Lift, Butler Mobility is proud to introduce the next in line of high quality residential wheelchair accessibility products.
Our Vertical Wheelchair Lift is a perfect solution for direct access to almost any area in your home. This Platform Lift is adjustable to lift or lower to the exact height required by the individual consumer. The easy to use control paddle and key lock make it a safe and reliable means of staying independent and mobile.
Standard safety features include 42" high solid side panels, automatic folding access ramp, emergency stop switch, non skid platform and ramp, powder coated finish with weather sealed controls, manual emergency crank, constant pressure control with key lock, and bottom safety pan.
The Butler Vertical Wheelchair Lift is easy to install, and comes with a standard 5-year conditional warranty. These quiet and durable wheelchair lifts for home use are built to last, providing years worry-free use.
For more information about Butler Mobility's Vertical Wheelchair Lifts, visit http://www.butlermobility.com or call toll-free 888-847-0804.
Media Contact
Pat Small
psmall(at)butermobility(dot)com
Butler Mobility Products