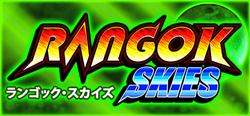 For those in our iiRcade family that like Gunbird and Strikers 1945, they will love Rangok Skies
CHICAGO (PRWEB) July 13, 2021
iiRcade Inc., a premium home arcade cabinet that allows gamers of all ages to play their favorite retro and modern games in arcade style at home, is pleased to announce that Rangok Skies, developed and officially licensed by Samurai Games, is coming soon to iiRcade.
Rangok Skies, which was first released in March 2021 on Steam, is a vertical scrolling arcade shooter that was inspired by the genre classics, such as DoDonPachi, Gunbird, and Strikers 1945.
The highly replayable shooter features four different characters, Marco, Astra, Big Joe, Sam Urai, each with their own unique ship, weapons, and bombs to take on Rangok in this epic battle.
"For those in our iiRcade family that like Gunbird and Strikers 1945, they will love Rangok Skies," said Jong Shin, founder & CEO of iiRcade. "Rangok Skies plays extremely well on iiRcade and we'd like to thank Samurai Games for working with us to bring this fantastic game to our platform."
Game Features:

Choose your pilot: Four different characters, each with their own unique ship, weapons, bombs, and story endings
iiRcade Attract Mode: Exclusive to iiRcade, Rangok Skies will feature a classic arcade style attract mode on the platform
Solo Mode: Start with three lives and three continue credits, and try to beat the game!
iiRcade Online Leaderboards: Which leaderboard you're ranked on – Terminators, Masters, Heroes, or Babies – is determined by lives lost, continues used, and score
Auto-Shoot Accuracy: Hold down fire to slow your ship and enable more precise movements
Special Weapons: For targeted mass destruction of most enemies and bullets
Mega Bombs: Inflict screen-clearing devastation, perfect for tight situations
Collect mini-items and rewards: Increase firepower, charge the Mega Bomb meter, boost your score
Five intense stages: Each with their own enemies and huge end-of-level boss
Local Co-op Mode: Play with a friend and defeat Lord Rangok together
iiRcade is a home console in an arcade format, and just as you would on a traditional home console, officially licensed modern and retro games can be purchased and added through the iiRcade Game Store with new titles continuously being added each week.
iiRcade features a 19-inch display, 100-watts of powerful stereo audio, authentic arcade controllers and a premium wood cabinet.
iiRcade is available in seven versions. iiRcade Classic Edition, Space Ace Edition as well as Beach Buggy Racing 2 Edition come with 64-GB storage memory and iiRcade's premium classic joysticks, while four premium editions include upgraded 128-GB storage memory and original Sanwa joysticks. The premium editions include Mutant Football League Edition, RetroMania Wrestling Edition, Dragon's Lair Edition and Black Edition, which enables users to design their own cabinet graphics and comes with officially licensed Double Dragon artwork that can be put onto the cabinet as a free gift.
Every iiRcade home arcade cabinet comes pre-loaded with 11 games and the ability to add hundreds more.
A full list of games currently available and targeted for release on iiRcade Store can be found here.
For more information and to order iiRcade, visit iiRcade.com.
About iiRcade
iiRcade is a premium arcade gaming experience like no other. Play retro arcade games that you remember to the latest modern games in amazing arcade style. With cinematic gaming experiences powered by 19" high-density display, 100W of powerful stereo sound, premium 2-player arcade controllers and device optimized for the best arcade gaming experiences, iiRcade delivers arcade gaming that is so immersive, you will feel like you are inside the game.