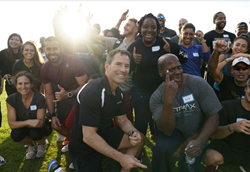 "The most exciting part about the VertiMax Summit is sharing knowledge and experiences with trainers, coaches, parents and athletes that have the same vision and passion for sports and fitness." says Jessie Ehren, International Education Coordinator for VertiMax.
TAMPA, Fla. (PRWEB) October 30, 2019
VertiMax, a Tampa, Florida based sports performance company, has become a global powerhouse in the past few years. The company is known for cutting edge training technology that's used by world-class Olympic athletes, professional athletes, college, high school, youth sports athletes and fitness clientele. VertiMax improves performance on and off the field like no other sports performance equipment in the world. The business is not only an equipment company, but it is also an educational provider for trainers, coaches, parents, and athletes looking to bring their sports and fitness gains to the next level.
VertiMax is holding its second annual global summit in Tampa, Florida with sports performance and fitness professionals from around the world attending the event at the Hotel Alba on November 16th, 2019. Last year's event was a great success as individuals and teams came from 14 states and multiple countries from around the world. This year, there will be three Key Notes presented by world-renowned sports and fitness leaders, four sports performance workouts led by the VertiMax Master Trainer team and a Sports Performance Panel conducted by some of the most elite Performance Trainers in the country. Food, apparel, and educational content will also be provided to those attendees.
One of the three Keynote speakers lined up for the event is Tampa's own Dana Santas. Known as the "Mobility Maker," Dana Santas is a mobility, breathing and mind-body coach in professional sports, a best-selling author, on-air health & wellness expert, and an international presenter on ways to breathe, move and feel better, body and mind for performance enhancement and healthier, happier living.
Specializing in training athletes/teams in MLB, NHL, NBA, NFL, MLS, PGA, WTA & WWE, Dana also proudly works with U.S. military, tactical athletes/first responders and veterans, and previously served the Boston Fire Department. With 15+ years in professional sports, her work experience spans thousands of athletes and more than 45 teams worldwide, including the Philadelphia Phillies, Boston Celtics, Tampa Bay Lightning, Houston Texans, Toronto Blue Jays, Orlando Magic, Boston Bruins, New York Yankees, Atlanta Braves, Boston Red Sox, Tampa Bay Rays, New England Patriots, and dozens more.
In addition to her ongoing role with CNN Health, she's a recurring on-air fitness expert for the nationally syndicated morning show Daytime as well as Tampa Bay's Bay News 9. An internationally recognized expert in physical and mental health and wellness, Dana has appeared in Men's Health, Men's Journal, Oxygen, Shape, Quick and Simple, Red Book, and Success Magazine. She's also been featured with her pro-athlete clients in Sports Illustrated, Hockey Magazine, USA Hockey, NHL Network, MLB.com, Fox Sports, CBS Sports, and others.
In 2017 VertiMax received capital from Vedere Ventures, a leading global private equity firm that has made investments in Europe, Asia, and the Americas. Fitness leaders Bryan O'Rourke, Robert Dyer, and Maureen O'Rourke are operators with a track record in the global fitness marketplace. The investment fueled VertiMax's continued expansion as a market leader in developing and delivering cutting edge sports performance, rehabilitation and fitness training solutions. The group along with VertiMax founder Mike Wehrell have significant growth plans for the VertiMax brand.
To learn more about the event or to register, go to https://vertimaxsummit2019.eventbrite.com. A special discount code is available until October 31st. Use code SUMMIT25 to receive 25% off your ticket.
See what attendees had to say about the first annual VertiMax Summit
About VertiMax:
VertiMax provides sports, functional and rehabilitative training solutions to fitness facilities, training centers, and high school and college athletic programs including for use by student and professional athletes at home or on the field.
Thousands of U.S. high schools and 80% of D1 universities utilize VertiMax technologies and platforms including their portable Raptor product. Over 40% of professional US sports teams like the Baltimore Ravens and New England Patriots, among others, utilize the technology extensively.
To learn more visit http://www.vertimax.com or follow @VertiMax on major social networks.