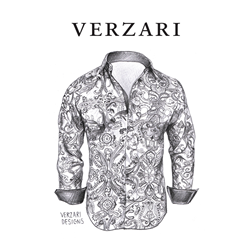 ...for guys that are confident and also those that want to look confident.
Houston, Texas (PRWEB) July 21, 2014
Who says men's shirts can't be sexy? The men's designer shirts found at Verzari.com exude sex appeal in a sleek and sophisticated way. These aren't your ordinary men's shirts but high end designer shirts with bold beautiful colors and stunning prints and patterns.
"Our line of men's shirts is for those guys that are not just confident but also those that want to look confident," says Antony Scallone, a head designer at Verzari.com. Verzari shirts have a modern feel and cut similar to Robert Graham shirts but without the designer price tags.
Men wearing these shirts definitely get noticed and usually get showered with compliments from both men and women. "The fabrics and designs are exclusive to Verzari and you won't find shirts like these anywhere else but online at Verzari.com," says Mr. Scallone.
Similar shirts normally cost hundreds of dollars at high end stores like Nordstrom's. But Verzari sells directly online which means customers are getting a high quality designer shirt at insanely low prices.
Verzari Shirt Features

Made of 100% premium, high quality cotton
Includes two extra buttons just in case (discreetly sewn on inside)
Unique designs with intricate contrasting fabrics on collar and cuffs
Includes two stainless steel collar stays. Verzari never uses plastic!
Handmade and individually inspected. These are not mass produced.
Read the full story behind Verzari: http://www.verzari.com/our-story/.
View the entire Verzari shirt collection: http://www.verzari.com/view-all-shirts/.