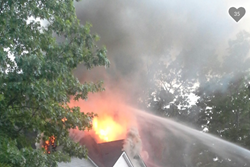 Assisting those in our community who are most in need of help is what Thompson Group Insurance does best.
Adairsville, GA (PRWEB) September 30, 2015
Thompson Group Insurance, a full service insurance firm with offices serving Adairsville and the surrounding communities, is announcing a charity drive to raise funds for a local disabled Vietnam Veteran named Don who lost his home due to a house fire that occurred during a recent thunderstorm.
Don is the father of two young boys and is battling both cancer and Parkinson disease. In a recent thunderstorm, Don's house was set ablaze by an errant lightning strike and the domicile burned to the ground. Thankfully, no one was injured, but all of Don's belongings, as well as his medication, were lost in the fire.
Bruce Thompson, owner and manager of Thompson Group Insurance, has announced that his enterprise will be launching a charity effort to raise funds that will be used to ensure that Don receives the medication he needs, along with new clothes and emergency shelter. "Assisting those in our community who are most in need of help is what Thompson Group Insurance does best," says Thompson. "As both a veteran and a longstanding member of our community, Don deserves our help and support."
The Thompson Group Insurance team is mobilizing an extensive list of personal and professional contacts in an effort to raise funds that will be used to assist him during this crisis, which even included a special rally day where the agency set a goal to raise $500 in one afternoon (September 30). Friends, family, neighbors, and business associates alike are being contacted, and the Thompson team is going as far as to create an online social media page that outlines Don's struggles in the hopes that even more families throughout Georgia can pitch in and lend a hand.
In addition to assisting Don and his family recover from the tragedy of losing a home, Thompson and his team are assisting several other local charities, and plan to assist a new charity every other month as part of an ongoing community involvement effort.
Those who wish to assist Thompson Group Insurance as they raise funds that will be used to provide Don and his family with critical supplies and medication are encouraged to visit the Thompson Insurance website and make a personal donation to the cause from this page: http://thompsongroupinsurance.com/House-Fire-Relief-for-Don--Sheila_8_community_cause. Those who wish to learn more about the other local charities supported by Thompson Group Insurance are invited to bookmark their Community Causes section, located here: http://thompsongroupinsurance.com/community-cause.
About Thompson Group Insurance
As a Personal Financial Representative in Cartersville, I know many local families. My knowledge and understanding of the people in this community helps me provide customers with an outstanding level of service. I look forward to helping families like yours protect the important things in life like family, home, car and more. I can also help you prepare a strategy to achieve your financial goals. I'm committed to helping you protect not only what you have today, but to also prepare for tomorrow. I can help you understand how insurance is a part of your "safety net" and a cornerstone to your financial security. Together, we'll work to evaluate your coverage and select flexible payment options that work for you. To contact an expert at Thompson Group Insurance call 770-606-1093.