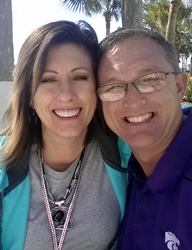 Caring Transitions is a unique business because we are really a one-stop shop for everything you need for a life transition, whether it's downsizing, moving into assisted living, clearing an estate or just relocating across town. - Rob Massingill
DOTHAN, Ala. (PRWEB) May 25, 2021
Local couple Kelley and Rob Massingill are excited to announce that they will be using their leadership, operations, sales and marketing experience to serve the community in a new way through their new business – Caring Transitions of Dothan.
Caring Transitions is the professional choice for moving, downsizing and hosting online estate sales. Caring Transitions' specially-trained professionals handle every detail of their clients' transition including decluttering, cleanouts, packing, move management, unpacking, resettling into your new home with both in-home and online estate sales. The Massingills and their team serve clients in Dothan, Enterprise, Gordon, Hartford, Headland, Midland City, Newton, Newville, Fort Rucker, Pansey, Slocomb, Webb and the surrounding communities.
"Caring Transitions is a unique business because we are really a one-stop shop for everything you need for a life transition, whether it's downsizing, moving into assisted living, clearing an estate or just relocating across town. All of those events can be extremely stressful, especially if a senior is involved or you're grieving, and we are here to help walk you through the process as compassionately and efficiently as possible," Rob said.
Caring Transitions' services are perfect for managing the many aspects of a senior move. The company also helps busy families with downsizing, rightsizing, and clearing out the home of a loved one who has moved into assisted care or has passed away. All of Caring Transitions' services are customizable, so clients choose the solution that best fits their needs.
Rob is a 27-year United States Army veteran. He retired as a CW4 with more than 20 years of experience in training, logistics and maintenance management. Kelley graduated from Emporia State University with a degree in business and marketing. She has more than 30 years of experience in sales, marketing and business management. She's an active member and past Ambassador of the Dothan Chamber of Commerce. She's also a rotary member and a board member of the Wiregrass Food Bank. The Massingills' journey to Caring Transitions started when Kelley and her sister moved their father.
"In the summer of 2020, we were called home to Kansas to help my father move into assisted living after it became clear that he wasn't thriving in his home. Then, in February, he passed away. My sister and I spent a lot of time trying to coordinate services and manage the details. As Rob and I were thinking about starting a business and we found Caring Transitions, I realized how much time I would have been able to spend with my dad if I hadn't been focused so much on the move and the logistics," Kelley said. "What we really give people is time and peace of mind."
Caring Transitions of Dothan is bonded and insured and all employees are background checked. For additional information, call 334-547-7777, email kmassingill@caringtransitions.com or visit http://www.caringtransitionsdothan.com.