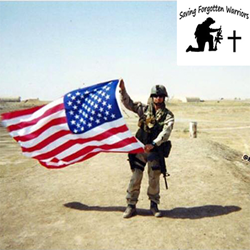 Saving Forgotten Warriors is locally owned and locally managed, and the organization is dedicated to providing veterans in our community with real support that saves and improves lives
Cullman, AL (PRWEB) August 10, 2016
Colvard Insurance Group, Colvard Insurance Group, a family managed insurance and financial planning company that provides coverage to business and residential clients in northern Alabama, is teaming up with regional nonprofit Saving Forgotten Warriors for a charity event that will benefit area veterans.
Founded by Sgt. Jeremy Hogan in January of this year, the Saving Forgotten Warriors organization is committed to providing ongoing support and assistance to veterans in northern Alabama and beyond. A number of local veterans and their families have already received help since SFW began operations, and the charity continues to find support among residents of Cullman.
"Saving Forgotten Warriors is locally owned and locally managed, and the organization is dedicated to providing veterans in our community with real support that saves and improves lives," says Clay Colvard, founder and director of Colvard Insurance Group.
Colvard and his team are working to generate support for the Saving Forgotten Warriors charity event by connecting with business leaders, families, and community members over social media and email. The Colvard team has also announced that a full page article featuring the charity drive will be included in this month's issue of the firm's online magazine "Our Hometown": http://www.colvardinsurance.com/Our-Hometown-Magazine_39.
A number of other Cullman area charitable causes and nonprofit organizations have received assistance from the Colvard Insurance team over the last few months. Colvard Insurance Group has joined the national "Agents of Change" movement, and as such has committed to assisting another charitable cause in northern Alabama every sixty days.
Those who want to stand with the Colvard Insurance Group and participate in the Saving Forgotten Warriors charity event are encouraged to make a meaningful effort to support the cause from this page: http://www.colvardinsurance.com/Remembering-Our-Community's-Forgotten-Warriors_15_community_cause. Those who would like more information on the causes and nonprofits previously supported by Colvard Insurance Group can find a full listing of past Community Causes here: http://www.colvardinsurance.com/community-cause.
About Colvard Insurance Group
Clay Colvard has been managing his insurance agency for years, and his deep connection to northern Alabama gives his team a unique ability to provide clear and understandable insurance and financial services and advice to both businesses and families. Colvard Insurance is here to help you protect the things that are important – your family, home, car, boat and more. Clay and his team can also help you build a plan to reach your financial goals. To speak with a helpful and knowledgeable expert from the Colvard Insurance Group, please visit http://www.colvardinsurance.com/ or call 256-739-5555.