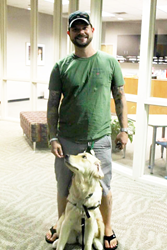 Protecting, healing, and providing for our returning veterans is a cause that everyone in our community can support.
Gainesville, VA (PRWEB) August 26, 2015
Robertson Insurance Associates, a locally owned insurance firm with offices serving Gainesville Virginia and the surrounding communities, is announcing a joint charity drive with Angel Flight for Veterans, a charitable group that helps connect veterans with medical facilities that provide needed services.
Angel Flight for Veterans is a locally managed charity based in Gainesville. Their mission is to ensure that no financially disadvantaged veteran or active duty military person or their family members are unable to receive access to evaluations, diagnosis, treatment, or rehabilitation from specialized medical services in remote locations due to a lack of long distance airline transportation.
AFFV regularly helps Veterans like Sgt. First Class Brock, who suffered from PTSD on his return from Iraq. After receiving assistance from AFFV, Brock was connected with a service dog facility and partnered with Tannen, a young golden retriever who has been instrumental in Brock's recovery.
"It's heartening to see organizations like Angel Flight for Veterans working to make the lives of our servicemen and women better," says Rick Robertson, owner and manager of Robertson Insurance Associates. "Protecting, healing, and providing for our returning veterans is a cause that everyone in our community can support."
Robertson Insurance Associates recently launched an ongoing community involvement campaign, and Robertson himself has pledged to support at least one new local charity every thirty to sixty days over the months to come. "We plan to get involved and stay involved," says Robertson. "We want to help build a community that everyone in Gainesville can be proud of."
Those interested in supporting Robertson Insurance Associates as they assist Angel Flight for Veterans in connecting veterans with specialized medical care are encouraged to visit the Robertson Insurance charity page and make a direct contribution to the cause, here: http://robertsoninsuranceva.com/Help-Veterans-Take-Flight-To-A-Better-Tomorrow-_21_community_cause. Readers who wish to review new charities supported by the Robertson Insurance team are invited to bookmark their Community Causes page here: http://robertsoninsuranceva.com/community-cause.
About Robertson Insurance Associates
Rick Robertson has been a Personal Financial Representative living in Broad Run, VA for several years with his wife, Cherie, and five children. Well acquainted with many families in the area, Robertson's knowledge and understanding of the people in his community help Robertson Insurance Associates provide over 3000 customers with an outstanding level of service. Robertson Insurance can help families just like yours protect the things that are important: your home, car, property, and more. Robertson Insurance is also ready to help you prepare a strategy to achieve your financial goals. A helpful representative for Robertson Insurance Associates can be reached at (571)-248-6464.