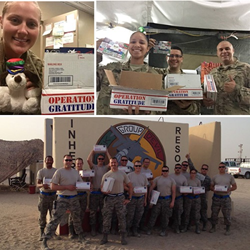 We know there are a great many families of veterans in the Houston area that are thankful for Operation Gratitude, but there's still a lot more to do.
Houston, TX (PRWEB) September 28, 2015
The Walters Agency, a locally owned insurance firm with offices that serve communities in and around Houston and Beaumont, is launching a cooperative charity drive with Operation Gratitude, a national non-profit that specializes in providing letters of thanks and care packages to overseas veterans and their families.
Operation Gratitude is a volunteer non-profit dedicated to both raising the morale of our servicemen and women around the globe and to giving every American citizen an opportunity to send a personal thanks to our veterans.
Since its inception in 2003, Operation Gratitude has logged 2.5 million hours of volunteer service, sent 4 million handwritten letters, mailed 8 million pounds of care packages, paid $10 million in postage fees, donated 50 million items, and shipped packages traveling a grand total of nearly 80 million miles.
"Operation Gratitude does more in a single day to raise the spirits of our veterans and service people than most charities do in a year, and we're proud to support them," says Brent Walters, owner and manager of the Walters Agency. "We know there are a great many families of veterans in the Houston area that are thankful for Operation Gratitude, but there's still a lot more to do."
The Walters Agency team is hard at work contacting community members and business associates throughout eastern Texas as they advocate for American veterans and draw in donations that will be used to send care packages overseas. Work is also being done on a social media page that the team predicts will attract even more support from all across Texas.
In addition to assisting Operation Gratitude as they offer encouragement and support to American veterans, Walters and his team have helped nearly a dozen other charities over the last year, and plan to continue finding and assisting a new local charity every other month.
Those who are interested in helping the Walters Agency team in their charity drive to support Operation Gratitude are invited to visit the Walters Agency website and make a direct personal contribution to the effort from this page: http://www.brentwaltersinsurance.com/Care-Packages-For-Our-Heroes_17_community_cause. Those who want to learn more about the other local charities that the Walters Agency has worked with over the last year are invited to review their Community Causes page, located here: http://www.brentwaltersinsurance.com/community-cause.
About The Walters Agency
The Walters Agency has knowledge and understanding of the people in the Beaumont community and has helped to provide insurance to over 8,000 families. The Walters team enjoys helping clients and protecting the things that are most important to them and their family, like home, auto, and business - their livelihood. A strong commitment to excellent customer service is what keeps the Walters Agency successful and consistently proud to serve communities throughout Beaumont, Spring, and Houston. Visit http://www.brentwaltersinsurance.com/ or call 409.899.2056 to talk to a helpful Walters Agency representative today!