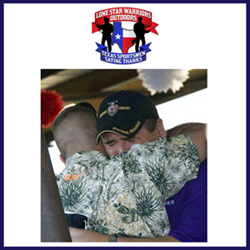 Our returning veterans are heroes in every sense of the word, and deserve both our thanks and our efforts to ensure that they are able to return to society happy and healthy
Tyler, TX (PRWEB) June 15, 2016
Callens Insurance Group, a full service insurance and financial planning firm headquartered in Smith County, Texas, is joining local non-profit Lone Star Warriors Outdoors for a charity event to benefit Texas veterans wounded in combat duty.
The Lone Star Warriors Outdoors organization offers healing and therapeutic services to veterans who have been injured during combat deployment. Traditional activities such as hunting, fishing, and outdoor sports are a common respite for wounded veterans, and Lone Star also works to rejuvenate the mind and body while promoting a sense of community and belonging.
"Our returning veterans are heroes in every sense of the word, and deserve both our thanks and our efforts to ensure that they are able to return to society happy and healthy," says Jeff Callens, manager and owner of Callens Insurance Group.
To promote the Lone Star Warriors charity event and find support among families and business owners throughout Smith County and beyond, Callens and his team are utilizing a modern social media interface and an email awareness bulletin sent to nearby community leaders. The team will also be creating a full page article to be featured in the next issue of the firm's monthly online magazine "Our Hometown": http://callensinsurance.com/Our-Hometown-Magazine_41.
Last year, Callens Insurance Group became a member of the national "Agents of Change" movement, and as such is committed to working with even more Texas-based charities and non-profit organizations in the future, at the rate of one every 60 days.
Those who wish to join Callens Insurance Group for the Lone Star Warriors Outdoors charity drive are encouraged to visit the following page and make a contribution to the effort here: http://callensinsurance.com/Casting-Lines-To-Restore-Veteran--Lives_29_community_cause. Those who want to know more about previous charities selected and supported by Callens Insurance Group can review the firm's Community Causes listing on this page: http://callensinsurance.com/community-cause
About Callens Insurance Group
An award-winning full-service agency providing coverage to families and businesses from offices in Tyler, TX, Callens Insurance Group is committed to offering the best insurance and financial products in the industry while rendering consistently superior service. Living by the motto, 'It's not business, it's personal,' Jeff Callens and his team of caring professionals believe in helping clients protect those things most important to them (their families, homes, cars, and more), as well as providing strategies to achieve long-term financial goals. A knowledgeable expert from Callens Insurance Group may be reached at 903-561-9933.