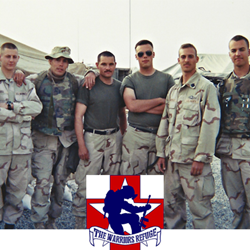 Our veterans have given everything they can to keep us safe, and now it's time for us to give back.
The Woodlands, TX (PRWEB) July 24, 2015
Moore Insurance Agency, a locally owned full service insurance firm serving the area in and around Woodlands, Texas, is joining forces with Warriors Refuge, a non-profit organization that provides critical support and counseling for veterans returning home with disabilities or impairments.
Warriors Refuge began as a peer support program staffed by a handful of volunteers. Today, Warriors Refuge is a full-fledged non-profit organization that offers a host of powerful programs that provide counseling and emotional support. The mission of Warriors Refuge is to rekindle the brave spirit of veterans who are suffering from physical, emotional, or psychological impairment or distress in a judgement-free environment created and maintained by their peers.
"Our veterans have given everything they can to keep us safe, and now it's time for us to give back," says Jared Moore, owner and manager of Moore Insurance. "Warriors Refuge offers real healing to our service men and women who have returned home injured, and supporting them in their mission is a true honor."
Jared and his team are reaching out to friends, families, neighbors, and business associates throughout the area in an effort to raise awareness of the work done by Warriors Refuge, and to gather donations that will be used to provide critical support for veterans that need healing. Efforts to expand awareness by creating an online portal via social media are already underway, and support is flowing in from families, individuals, and businesses all across the state.
In addition to supporting Warriors Refuge in their efforts to provide healing to our returning veterans, Moore Insurance has assisted a number of other local charities throughout the community over the last year, and plans to find at least one new charity to support every month or two for the foreseeable future.
Those who are interested in assisting Moore Insurance and Warriors Refuge in their efforts to provide healing for returning veterans are encouraged to browse to the Moore Insurance website and donate to the charity directly from this page: http://mooreinsuranceteam.com/Theyve-Battled-for-Us-Lets-Battle-for-Them_16_community_cause. Those who wish to view more of the local charities supported by Moore Insurance are invited to their Community Causes page located here: http://mooreinsuranceteam.com/community-cause.
About Moore Insurance
As a Personal Finance Representative in the Woodlands, agency owner Jared Moore knows many local families. His knowledge and understanding of the people in his community help provide customers with an outstanding level of service. Jared and his team look forward to helping families protect the things that are important - family, home, car and more. They can also help clients prepare a strategy to achieve their financial goals. To contact an expert at Moore Insurance, call (281) 367-8899.