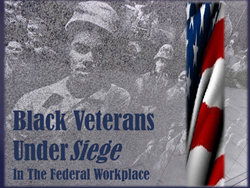 "It is imperative that the public view the Black veterans' claims of bias and abuse as disclosed in the C4C video," said Tanya Ward Jordan, C4C's President and Founder.
Washington, DC (PRWEB) November 06, 2015
In a statement released today, Black veterans, members of the C4C, say they agreed to tell their story in the C4C produced video because as the Equal Employment Opportunity Commission (EEOC) has disclosed on its website anti-discrimination laws have failed to provide a work environment free of discrimination and retaliation. The veterans interviewed by the C4C charge that some U..S. Federal agency managers treat many of America's returning service men and women of color unfairly and subject them to intolerable abuse.
The C4C video is entitled - Black Lives Matter: Black Veterans Under Siege in the Federal Government.
"Dealing with rampant workplace retaliation as an employee of the Department of Justice's Bureau of Prisons, still remains one of the most difficult things I have experienced," said veteran Dennis Turner, a military veteran who filed a class action complaint against the Bureau of Prisons before retiring in 2008. The EEOC certified the Turner, et al v Department of Justice, Bureau of Prisons class action complaint, EEOC No. 541-2008-00255X, on September 30, 2010.
"After injuring my back on my last deployment, supervisors at the Customs and Border Protection (CBP) Internal Affairs failed to provide me with reasonable accommodations. Despite extensive documentation of my medical condition they chose to fire me in 2014 after I reported discrimination," said J. Gregory Richardson, a Lieutenant Commander in the Navy (Retired) who once thwarted a terrorist attack at Fujairah International Airport in Saudi Arabia and received a commendation medal for meritorious service. Richardson alleges he has been forced into multiple legal actions and burdened with thousands of dollars in debt all because CBP officials engaged in racially discriminatory actions against him and repeatedly ignored his status as a disabled veteran (EEOC Case No.570-2015-00795X; DC-43224-13-0472-I-3).
"Isaac Decatur, a Navy veteran, and I were both blacklisted and targeted for removal from the U.S. Veterans Affairs (VA) after we reported and proved workplace race discrimination," disclosed Ralph Saunders, a U.S. Marine veteran.
Veteran Saunders successfully proved that Federal officials at the VA Medical Center in New Orleans, Louisiana discriminated against him (VA Case No. 200L-0629-2004100828). Additionally, the EEOC found that VA officials discriminated against veteran Decatur in EEOC Case 200L-0629-2005103156.
"Racism within government is far worse than the public can imagine," added Louis Murphy, an U.S. Army veteran and a widower. Murphy alleges that officials at Brooke Army Medical Center used his late wife, veteran Felicia Murphy, as a "human guinea pig to train military residents." Army's U.S. Torts Branch provided compensation related to claims of veteran Louis Murphy, individually and on behalf of the estate of veteran Felicia Murphy.
Karl McDonald, a U.S. Marine Corps veteran who served in Iraq, Desert Storm and Operation Provide Comfort, was fired from the U.S. Nuclear Regulatory Commission after alleging that Federal official Gary Simpler subjected him to racial harassment. The C4C video discloses how an investigation urged by Senator Barbara Mikulski of Maryland, substantiated that "inappropriate comments" had been made to veteran McDonald and other African Americans. Civil action filed (McDonald v Simpler, et al. Civil Action No.8:15-CV-01343-GJH).
"Federal officials found guilty of discrimination against veterans and non-veterans should face discipline," said Paulette Taylor, a disabled U.S. Army veteran and class agent in an Equal Employment Opportunity Commission (EEOC) certified race-based class action against the U.S. Social Security Administration SSA-03-0224; SSA-03-0208).
"It is imperative that the public view the Black veterans' claims of bias and abuse as disclosed in the C4C video," said Tanya Ward Jordan, C4C's President and Founder, "because their accounts offer critical insight into government's ability to fairly administer Federal programs and services to the Black community-at-large."
--
About The Coalition For Change, Inc. (C4C)
The Coalition For Change, Inc. (C4C) is a Washington, DC based volunteer organization comprised of present and former Federal employees who have been injured or ill-treated due to workplace discrimination and /or reprisal.