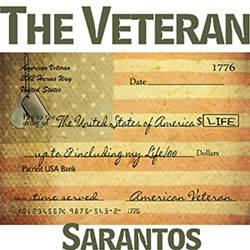 I think people forget that even if they don't necessarily agree with a particular war and its point or purpose, the real people that go to war give it their all. They risk everything. They come back bruised and shattered both physically & emotionally!
Park Ridge, IL (PRWEB) November 03, 2015
Sarantos Releases Powerful New Indie Rock Song Commemorating War Veterans called "The Veteran" Just In Time For Veteran's Day.
In November 1919, President Wilson proclaimed November 11 as the 1st commemoration of Armistice Day with the following words: "To us in America, the reflections of Armistice Day will be filled with solemn pride in the heroism of those who died in the country's service and with gratitude for the victory, both because of the thing from which it has freed us and because of the opportunity it has given America to show her sympathy with peace and justice in the councils of the nations…"
Sarantos has never been a member of the armed forces. However, based on the work he has done over the years with veterans of war, a fondness and genuine gratitude has become engraved into his spirit. Experiencing firsthand the post-traumatic stress disorder they go thru while struggling to move back to a normal life taught him the undeniable toll war takes on a fragile human soul. So a decision was made to write a song in their honor. What do they go through? What do they feel? Is there a sense of appreciation, or a lack of respect or empathy they suffer...do they feel forgotten?
This song is a powerful message on Veteran's Day to remember and commemorate every war veteran around the world. Veterans do it for all of us, whether we realize or understand our government's intention or not. Politics, nationalities and religion can often vary but the story of a veteran will always be the same. The music video comes out next week.
"This is a really emotional indie soft rock song dedicated to all the men and women who have served their country in the armed forces" says Sarantos. "It is written and sung from the point of view of a veteran who gave the best he had and could. He does not regret the price he paid. He did it all for you! I think people sometimes forget that even if they don't necessarily agree with a particular war and its point or purpose, the actual people that go to war give it their all. This is not make believe or a movie. They don't pretend. They risk their everything. They risk their lives for their country. They come back bruised and shattered both physically and emotionally. We should give them their due not only on Veteran's Day but also on every single day they are with us as veterans of war. I salute them. I thank them! This song is for them."
Sarantos recently started using a new social media platform & has many exclusives coming soon:
http://www.empowr.com/sarantosmelogia
Sarantos won the Akademia LA Music Awards in 2015 for Best Song (What If I Never See You Again), Best Rock Song (Easy To Believe), Best Rock Music Video (We Accept The Love We Think We Deserve), Best Singer/Songwriter Song (A Mission Of Heart, I Sing), Best Pop Song (I Sing) & Best Pop Rock Album (Not Where I Wanna Be).
Sarantos has won twelve Beat 100 song & music video awards in 2015 and 2014. Sarantos was nominated for the International Music & Entertainments Awards in 2015 for "Rock Song of the Year" and in 2014 for "Rock Song of the Year" and "Pop Album of the Year." In 2014, he was also nominated for the Hollywood Songwriting Awards for Best Unsigned Song (Are You Sure You Can Last).
Even without a label or radio promoters, Sarantos song "What If I Never See You Again" has been in the top 200 on the majors list in the US for radio airplay according to the Digital Radio Tracker Top 200 charts. On the independent charts, Sarantos is still in the top 10. He's been on both these lists since early April.
33% of any music-related sales profits from this song are going straight to Wounded Warrior Homes.
Wounded Warrior Homes provides transitional housing to 9/11 combat veterans with Traumatic Brain Injury (TBI) and Post-Traumatic Stress (PTS). They are citizens, like you, who deeply care about our nation and appreciate the sacrifices of those who have served in armed conflict to protect our country, our nation's interests, our people and those in other nations.
*Because Sarantos wants his music shared throughout the world, fans can always find all of his songs, lyric sheets, videos and books on his website for free. He openly gives everyone the right to share his song mp3s for free with anyone they want via email or any of the social media platforms.
**Fans can sign up for his free email list to get the inside scoop first and exclusive content available nowhere else.
Sarantos' iTunes & Apple Connect:
http://bit.ly/SarantosAppleStore