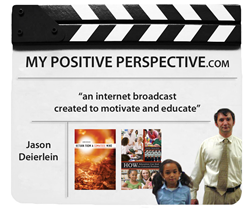 My Positive Perspective salutes all of our veterans.
Charleston, SC (PRWEB) July 08, 2014
On July 7, 2014, My Positive Perspective host Jason Deierlein had an opportunity to interview one of our country's bravest military veterans. Former navy helicopter pilot Art Schmitt was a special guest on the My Positive Perspective internet show. During the eight minute episode, several topics were covered. Deierlein began the interview saying, "Schmitt served in three tours during the Vietnam War and during all that time, what was the most positive thing you took away from that time?" Schmitt answers, "The most positive thing I still have to this day is the friendships that I formed with so many outstanding young men."
Deierlein then says to Schmitt, "One interesting thing you took part in that not many people can relate to is your involvement with the space exploration. Can you talk some about that?" Schmitt replies, "When I began flying helicopters in Pensacola, Florida, I was also asked to instruct some of the astronauts how to fly helicopters. One of those men was Jack Schmitt who went on to be on the Apollo 17 mission. He also invited me to watch one of their take offs to the moon."
Deierlein then asks Schmitt, "Have you ever been back to Vietnam?" Schmitt says, "I would not go back on a bet, in 1988, I saw a psychologist who recommended I do that, but it is not something I want to do." Deierlein then asks, "What was it like aboard the USS Yorktown?" Schmitt says, "Most of my missions were flown from the Yorktown and despite the cramped spaces I took pride in serving my country."
My Positive Perspective is a media outlet believing that improvement in our community will be best achieved by focusing on the good things happening in our world today. Having survived a near fatal car accident as a youth, a shift of perception forced one to have a mentality of always concentrating on the brighter sides of things. This was true, and in my book, Return From a Comatose Mind, this belief was put to the test. Appreciation for life was the biggest thing one took away from my brush with death, and it is because of that gives me such a huge desire to be helpful to many. My Positive Perspective is a way of overcoming challenges through positive thinking.