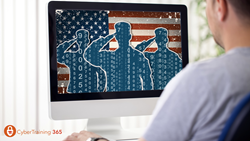 Training Veterans with the necessary skillset to protect organizations against cyber attacks.
(PRWEB) November 11, 2016
CyberTraining 365 is pleased to announce CyberVet 365, a scholarship program that provides US veterans with cutting edge cybersecurity training. The scholarships will be awarded to 3,000 US veterans, giving them 6-month free access to a growing library of over 1000 hours of latest and most relevant cybersecurity content. The training includes preparation courses for leading industry certifications from EC-Council, CompTIA, and Cisco as well as supplemental certifications that focus on computer forensic investigation, malicious software defense, malware analysis and much more.
Currently CyberTraining 365 is working with multiple, nonprofit veteran organizations and also looking for additions partners to fulfill the 3000 scholarship mark. This initiative will carry an overall value of $1 million over the course of two years and is designed to cater to veterans at all skill levels.
Currently, there are 220,000 job openings that require cybersecurity-related skills, and employers are struggling to find workers to fill these positions.
"Veterans are team oriented and excel at handling high-pressure environments, giving them the abilities to excel in cyber security positions. Another benefit for military veterans is that they may have already acquired security clearances that are needed for a lot of the positions in the public sector," said Bally Kehal, CISO at CyberTraining 365.
About CyberTraining 365
We are an online academy that offers nearly 1,000 hours of relevant and cutting edge cyber security training. Our training provides the most in demand industry certification prep courses including EC-Council, CompTIA, (ISC)2 and Cisco; all taught by leading cyber security experts. All of our offerings are aligned with the National Initiative for CyberSecurity Education (NICE) and ensure the most up-to-date information for this constantly shifting field. With engaging content in a scenario-based format, CyberTraining 365 uses bite-sized microlearning methodology which ensures learners are not overwhelmed with information. The on demand LMS platform also has white-label capabilities ideal for internal training purposes.