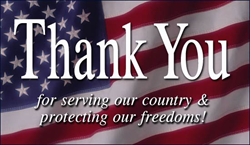 Veterans Day is an important holiday to commemorate those who have served the United States.
Ft Lauderdale, FL (PRWEB) November 07, 2014
Offering quality glass repair services to Fort Lauderdale and environs, Express Glass & Board Up is proud to announce Veterans Day specials. For any residential glass repair service, new customers can use a special 10% coupon to reduce the cost of their glass repair service. Active military can also use the coupon, even if they have already been an Express Glass customer.
"Veterans Day is an important holiday to commemorate those who have served the United States," explained Yani Santos, general manager of Express Glass. "Our 10% offer is usually for new customers only, but for Veterans Day only we will extend this to active duty military. They need to mention this offer directly, to get the discount applied."
To find the 10% Veterans Day discount special, simply visit http://www.expressglassfl.com/coupon/. There one can learn about glass repair services offered for Fort Lauderdale.
Veterans Day and Express Glass & Board Up
Veterans Day originated as "Armistice Day" on November 11, 1919, the first anniversary of World War I. Congress created the holiday in 1926. Over time, the holiday has come to both commemorate military service and to become an opportunity for sales and special discounts. While generally glass repair companies tend not to offer discounts or deals associated with holidays, Express Glass & Board Up is unique in the Fort Lauderdale area for being on the forefront of innovation. The company has one of the most active Web presences among the glass repair industry, and many Fort Lauderdale residents comment on how easy it is to locate, and reach out to, the company via its Internet system. The 10% coupon is located online, and can easily be printed; in fact, mobile phone customers need only to display the coupon on their phones to get the special offer. For Veterans Day, the company is extending the offer to existing customers who are active duty, of which there are many in the South Florida area.
About Express Glass Repair and Board Up
Express Glass and Board Up Service Inc. is a family owned and operated glass repair business with more than 20 years of experience. Their professional technicians and the large variety of inventory make Express Glass the top glass repair service. If customers are looking for Miami glass repair or Ft. Lauderdale glass repair as well as glass repair in Delray Beach or West Palm Beach glass repair, please reach out to the company for a free estimate. If customers need a 24/7 Sliding Glass Door repair service in Ft. Lauderdale or Boca Raton or Miramar, technicians are standing by. The company specializes in sliding glass door repair and window glass repair; technicians will handle any glass replacement situation efficiently. Home or business glass repair is the company's main priority.
Express Glass Repair and Board up
http://www.expressglassfl.com/