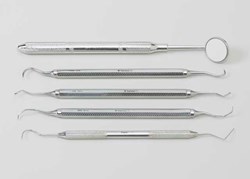 Stow, OH (PRWEB) August 28, 2013
Spectrum Surgical Instruments Corp. is pleased to offer a Basic Prophylaxis Dental Kit. Ideal for routine diagnostic and prophy procedures, Spectrum's kit includes a P-1 Mouth Mirror (#4), P-5 McCall Scaler, P-2 Probe/Explorer, P-4 Jacquette Scaler and a P-3 Towner-Jacquette Scaler. The order number for this kit is BP-4. In addition to Spectrum's pre-configured veterinary dental kits, individual instruments are available, à la carte. Spectrum's veterinary dental instruments are backed by the company's famous lifetime guarantee.
For more veterinary dental instrument information, please contact a Spectrum Customer Care Representative 800-444-5644.
About Spectrum Veterinary Instruments
Spectrum Surgical is always listening to its customers and incorporating their ideas for the future. Spectrum is a leading provider of a full range of surgical instrument repair, sharpening and restoration services. Spectrum Surgical has been providing surgical instruments and accessories to veterinary centers across the United States since 1983.
We have taken a leading role in the industry by providing educational resources and services pertaining to the proper care and handling of surgical instruments. Our commitment to customer service and has led us to increase our quality systems and improvement initiatives.