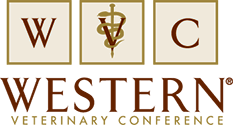 The 2014 conference is the most comprehensive meeting in our long history of providing continuing education to veterinary professionals.
Las Vegas, NV (PRWEB) February 05, 2014
The 86th Annual Western Veterinary Conference (WVC) kicks off in Las Vegas on Feb. 16, offering over 15,000 veterinary professionals more than 1,000 hours of high quality educational programming at the Mandalay Bay Convention Center.
"The 2014 conference is the most comprehensive meeting in our long history of providing continuing education to veterinary professionals. This year, we will offer our attendees the most practical and advanced information available covering a wide variety of subject matter and content," said David Little, CEO of WVC.
Attendees will earn up to 50 continuing education (CE) hours in 12 program areas, such as Small Animal, Avian & Exotics, Equine, Food Animal, Veterinary Technician, Practice Management and more. Presentations from the industry's most highly regarded instructors and subject matter experts include a variety of topics such as cardiology, genetic disease in small animals, horse hypertension, animal laser therapy, as well as non-scientific subjects like marketing one's practice, effective communication techniques and social media tips.
New this year is WVC Live! Formatted in 20-minute TED-style presentations covering various topics ranging from animal care to corporate culture, this event is the first time WVC will stream its content online for non-attendees. Presentations are Monday and Tuesday from 1:30 to 4:50 p.m., and Wednesday from 1:30 to 3:50 p.m.
The conference will also feature more than 500 exhibits on products and services in the world's most complete assembly of veterinary exhibits under one roof. Approximately 30 new products will be launched at WVC's New Product Showcase.
What's more, WVC is offering a pre-conference hands-on lab on Saturday, Feb. 16, in addition to 136 hours of conference hands-on labs at WVC's Oquendo Center, which is just minutes away from Mandalay Bay. 117 hours of complimentary symposium sessions, 46 workshop hours, and six hours of "lunch and learns" round out this year's programming.
WVC's Chief Veterinary Medical Officer, Don Waldron, DVM, DACVS, adds, "The hands-on experience attendees will receive at the Oquendo Center will help to improve the quality of care to patients in their practices, as well as increase confidence in the caregivers ability to care for those patients. The Oquendo Center is perfect for this type of educational work."
WVC continues to provide guest registrants with a variety of special activities while veterinary professionals learn, including a tour of The Mob Museum and Springs Preserve. This is in addition to a number of other special conference activities.
Additional conference activities and entertainment include:

Various receptions (Alumni, International, DVM Student, Affiliate Groups, etc)
5K fun run
Wine and beer tasting
Annual golf tournament
Health & Wellness classes
Inspirational speaker, Jennifer Arnold
Entertainment, including a comedy show with Tom Cotter and a Phil Vassar concert at House of Blues
The complete 2014 WVC program, online registration and other conference information are available at wvc.org. Full conference and 1-day onsite registration opportunities are still available. Additional information on either WVC or the Oquendo Center is also available by calling: 702.739.6698 or toll-free 866.800.7326.
Connect with WVC online:
@WesternVet
Facebook.com/WesternVeterinaryConf
Linkedin.com/company/western-veterinary-conference
Youtube.com/user/WesternVetConference